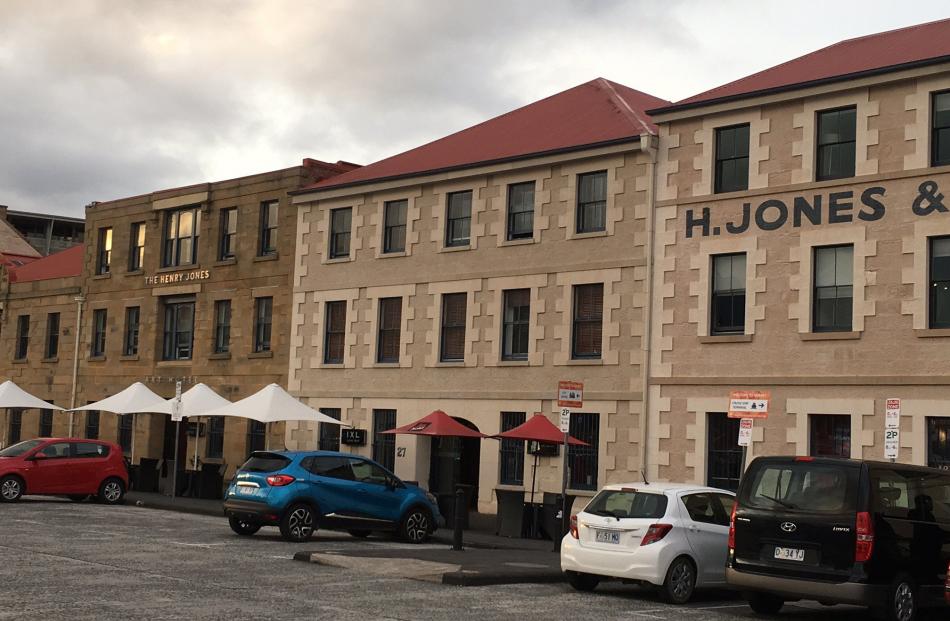 When it comes to hotel design, Dunedin can learn from Hobart, writes Russell Lund.
The proposed Filleul St, Dunedin, hotel is a remnant of outmoded thinking. Nothing ever remains the same, and the winds of change are sweeping through the accommodation industry.
I recently spent time in Hobart to see how it had been able to develop many of its waterfront heritage buildings into viable economic propositions, and received some valuable insights. Hobart now has a population in excess of 200,000, but it was and still is a regional city in economic decline, isolated from Australia's major centres.
Like Dunedin, it has the lowest average household income of any major Australian city, and sees a bright future in tourism based on its built heritage, natural environment and outstanding regional food and wine products.
The accompanying photographs show the two hotels rated by TripAdvisor as the best and second best (of 46) hotels in Hobart. The Hotel Grand Chancellor Hobart is a rectilinear 4.5-star human filing cabinet that is described on TripAdvisor as an architectural scar on the Hobart cityscape.
Its level of discernible architectural merit is of a similar standard to the proposed Filleul St hotel which is to say, none at all. Despite its brutal urban demeanor, The Hotel Grand Chancellor is a busy hotel. Its 244 rooms run at an impressive 93% occupancy, but you can hire a room there at any time for less than $A200 ($NZ215).
However, the modest Henry Jones Art Hotel nearby, with 52 5-star rooms, a former jam factory, knocks the Grand Chancellor for a revenue six. It also runs at 90%. occupancy, but its average tariff is about double the Grand Chancellor's, at $A350-$A500 per night. The Henry Jones is able to charge this premium because the property is unique, even in a city renowned for its building heritage.
The hotel conforms to no sort of hotel chain ''brand standards''. There are wandering corridors that have more ramps than a skate park, the original wooden floor structures and roof structures are exposed and unpainted replete with rusty nails and decaying timber. Rounding out the picture are the pockmarked and jam-stained stone walls, and the original corrugated iron gable roof and purlins are all on show.
Amongst this careworn colonial construction are hundreds of artworks from the neighbouring University of Tasmania School of Art, spacious glazed contemporary bathrooms, and some very clever spatial planning and custom-built furniture. The hotel is a complete sensory overload.
The hotel's developer confirmed the hotel had been extremely successful from opening day 13 years ago. But it is only recently that the hotel industry has acknowledged the fastest growing and most profitable hotel sector are boutique hotels that offer a unique local and cultural experience. This is an existential threat to the global hotel chains which by definition cannot credibly offer authentic local experiences. The developer said the biggest factor in the success of the hotel, was the historical story it had to tell.
The Filleul St hotel has no story to tell. It relies on a generic accommodation model that has been disrupted by online booking and the rise of sites such as TripAdvisor where user reviews provide the bleak reality of mass market generic accommodation.
Its developer, Anthony Tosswill, claims there is a minimum size for a 5-star hotel for an international chain, which has driven the size of the Filleul St hotel. From my own experiences last year I know this is untrue. Accor, IHG, Wyndham, are very pragmatic about size, particularly in a secondary regional market like Dunedin.
Readers might think that having a smaller 5-star hotel might still not provide an economic return to the owners, even if the tariff might be double the nearest competitor.
However we can be very sure this is not correct, because just 50m from the Henry Jones on the Hobart waterfront, Federal Group (the owners of the Henry Jones) is building a new small 5-star hotel of 114 rooms: the ''MAC1q''. It is just four storeys high, with the form of an industrial shed as a contextual nod to the existing 19th-century warehouses adjacent.
The hotel is not branded with an international hotel brand. The Federal group is providing it with a story and a local experience, and all the rooms have as their theme a prominent (and different) Hobart citizen.
Hobart has learned from its past mistake in allowing the Hotel Grand Chancellor to deface its signature cityscape vista.
Dunedin does not need to repeat that same mistake, which cannot be undone, but instead play to its heritage, and provide whatever assistance it can to convert the Cadbury factory into a destination, Cadbury-themed hotel. Mondelez is already in discussions with parties on this concept and the city must not let this once-in-a-generation opportunity pass by.
-Russell Lund is a Dunedin developer.