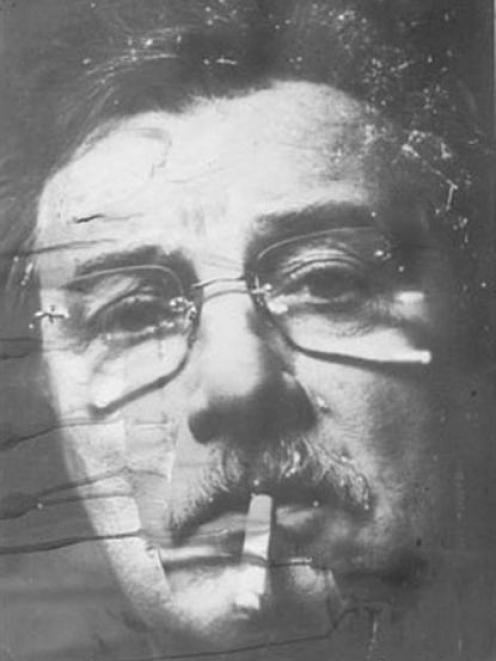 Ben Webb's art is grounded in imagery appropriated from popular culture, especially German popular culture.
I was writing last week about how such images may have personal associations and how stripped of that, and much else with the passage of time, they still bring forward some broad associations, for much of the audience.
That was with reference to photographs of Marlene Dietrich, a film star and cabaret singer.
But I was illustrating a personal association connected to a time shortly after World War 2.
I want to get closer to Mr Webb's imagery and its present associations.
After 1945, the old Nazi Germany was divided into East Germany and West Germany, the first in the areas occupied by the Soviet Union, the second in those under the control of the Western allies.
West Germany was established as a democratic state where capitalism flourished.
East Germany was a one-party socialist state, and a satellite of the Soviet Union, where there was no democracy or capitalism.
Instead there were secret police and difficult choices to be made about protecting oneself or others - just as there had been under the Nazis.
Divided Germany was at the forefront of the Cold War in which business from World War 2 remained unfinished until 1990.
Even in West Germany there were moral questions remaining from the war of which many were aware but few ever raised.
Ben Webb's appropriated imagery comes from this milieu.
It is different from much of the rest of the world at that time and certainly from New Zealand where the shadow of the war was shorter.
One of the pictures Webb exhibited last year at the Kunstraum Kreuzberg/Bethanien, a Berlin public gallery, starts from an appropriated photograph of Fritz Hellwig (b.1912).
Dr Hellwig had worked in a significant position in iron production in Nazi Germany and served in the German army during the war.
After the war he became a member of West Germany's parliament, the Bundestag, and later the European Parliament.
Such a career must have posed some moral questions.
It certainly would have raised some in the minds of others.
Ben Webb overlaid this image with what appear as black, inky tears.
But what does it bring forward and how does that read now?
Well, it resonates more in Berlin where Hellwig's features are more familiar, than in Dunedin.
But there are larger things which are perhaps not entirely lost in the temporal and spatial translation.
The Christmas bumper issue of The Economist has an article about the cartoon character Tintin, who is to feature in a film trilogy being made by Steven Spielberg and Peter Jackson.
The article is titled "A very European hero". It is subtitled, "Baffled Americans hoping to understand [Tintin] should look at him through the prism of post-war Europe".
Tintin is a boy reporter who goes around the world having adventures in the constricted moral universe of a good boy scout.
Created by a Belgian, Georges Remi, who worked under the pseudonym "Herge", he started life in 1929 and has been accused of racism and specifically anti-Semitism.
Herge continued to produce Tintin stories while Belgium was under Nazi occupation and was challenged by some to declare himself for or against the regime.
He never really did but the hero he created went on to be a star in post-war Europe.
Tintin is known in Britain and in New Zealand to a more limited upper-middle-class audience than on the Continent.
In America he is hardly known at all.
The article's author said "Herge acknowledged the links between his wartime experiences and his moral outlook. The Second World War lies behind a great deal in Tintin, just as it lies deep beneath the political instincts of many on the European continent.
"It matters a lot that the Anglo-Saxon world has a different memory of that same war: it is a tragic event, but not a cause for shame, nor a reminder of impotence . . .
"Perhaps Anglo-Saxon audiences want something more from their fictional heroes: they want them imbued with the power to change events, and inflict total defeat on the wicked. Tintin cannot offer something so unrealistic. In that he is a very European hero".
I agree there's a difference, but I think at least in New Zealand there's still recognition that these dullish popular images represent a world of exceptional cruelty and moral ambiguity.
We may not recognise Dr Hellwig but we know the place he inhabits.
Webb's borrowed image is thus the ground for weighty meditation.
It is only a starting point but an apt one for an art of metaphysical concerns.
- Peter Entwisle 
Peter Entwisle is a Dunedin curator, historian and writer.