Following months of warmer-than-average temperatures, parts of Otago and Southland just got their first taste of "normal" June weather.
Niwa climate scientist Gregor Macara said temperatures were above average in every region of New Zealand, except for parts of Southland and southeastern Otago where temperatures were "near normal".
Tara Hills (near Omarama) was the only location where temperatures were below average.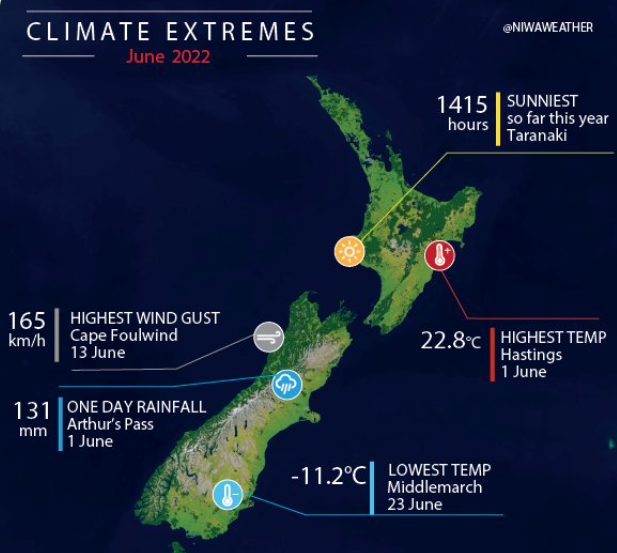 The mean temperature there between June 19 and 25 was -2.7degC.
The lowest daily minimum temperature recorded during this stretch was -11.0degC on June 22, followed by -10.6degC on June 23; and the daily maximum temperature recorded on June 23 was just 0.3degC.
The lowest temperature of the month for the whole country was -11.2degC, observed at Middlemarch on June 23.
Rainfall and soil moisture levels were at opposite ends of the scale for the southern region.
They were above normal or well above normal for many western and inland parts, but were below normal or well below normal for eastern parts of the country, Mr Macara said.
"It was especially wet in inland parts of Otago and Canterbury, where rainfall totals observed were approximately double the June average, respectively.
"By the end of June, soils were significantly drier than normal for eastern parts of Otago and Canterbury, from Balclutha north to Banks Peninsula.
"This pattern is consistent with the northwesterly air flow anomaly observed."
Several new records were set in the southern region during June.
Oamaru recorded its second-highest mean maximum air temperature for June with 13.1degC, while Middlemarch (11.9degC) and Dunedin (Musselburgh, 12.3degC) recorded their third-highest.
At the other end of the scale, Dunedin Airport recorded its lowest June temperature (-8.6degC) on June 23, and Middlemarch recorded its second-lowest (-11.2degC) on the same day.
Queenstown and Tara Hills (Waitaki district) recorded their highest June rainfall totals with 182mm and 124mm respectively, and Middlemarch also set a new record for its highest June wind gust (165kmh) on June 30.
Mr Macara said the Tasman Sea and Southern Ocean were particularly unsettled with numerous strong low-pressure systems and fronts, especially during the first half of the month.
"The prevalence of these air flows, and ongoing warmer than average sea surface temperatures, meant it was a warm start to winter for most of the country."
But parts of Otago and Southland received heavy snowfall in mid-June, followed by a prolonged spell of cold days and nights associated with high atmospheric pressure.
Overall, the nationwide average temperature in June 2022 was 9.9degC, making it the eighth-warmest June since records began in 1909.
Niwa June 2022 weather records
Highest temperature: 22.8degC, observed at Hastings on June 1.
Lowest temperature: -11.2degC, observed at Middlemarch on June 23.
Highest 1-day rainfall: 131mm, recorded at Arthur's Pass June 1.
Highest wind gust: 165kmh, observed at Cape Foulwind on June 13.