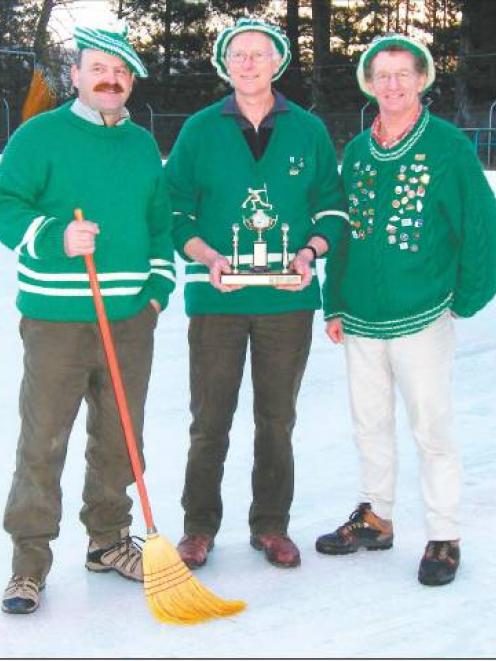 THE Alexandra team that ''only just'' made the cut for the final finished up winning the Macrae Trophy curling championship.
The Alexandra 2 side played Manorburn in a closely fought match for top honours at Alexandra on Monday and won 20-17.
Clubs that make up the Idaburn Curling Council are eligible to compete for the trophy and the competition was narrowed down to eight teams for the final round of competition this week.
The Alexandra side was made up of Murray Petherick, John Campbell and Leo Hulme. Mr Petherick said it was a ''nervewracking'' final.
''We qualified eighth and only just made the cut for the final, '' Mr Petherick said.
The team was only able to field three players, instead of the usual four, but playing the final with three was permitted.
''We had so many people away, either out of town, or who had work commitments and couldn't get time off to curl. It wasn't the way we'd have preferred to do battle on the ice, but that's the way it happened.''
Manorburn led throughout the final until the 19th end, when Alexandra scored a four.
It took three and a-half hours of curling to decide the winner and temperatures of up to 17degC made for melting ice and tricky curling conditions, Mr Petherick said.
''The ice has been very sugary and slow in patches, so what's happened is that you're curling off slow ice on to faster ice or vice-versa.
''That made it difficult to judge the weight when you're throwing the stones.''
It was the third successive win for the Alexandra club.
Dunstan Creek won the plate final.
The trophy was named after the late Lochie Macrae, a life member of the Alexandra Curling Club and the competition is one of the few still played crampit style, on an outdoors rink.
Crampit curling is the traditional form of the game, played outdoors off a crampit - an iron plate the player stands on when delivering the stones.