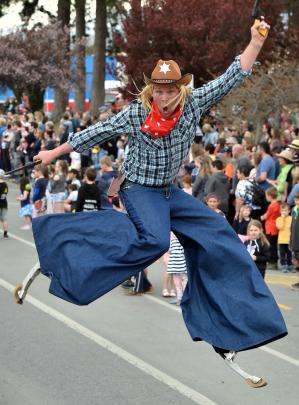 As Pioneer Park filled with people at the weekend, fears the event's timing could have an impact on crowd numbers were allayed.
An early ticket count yesterday showed more than 8000 people attended the festival in the park on Saturday, which exceeded the Alexandra Blossom Festival committee's expectations.
Thousands of spectators had earlier  watched the procession of floats, trucks and classic cars cruise down the town's main street.
A sunny morning was followed by more temperamental weather as crowds were entertained by music and rides in the park.
The Blossom Queen crown went to Cromwell's Courtney Anderson (18), who was representing the Alexandra Musical Society.
She was not used to all the attention, she said.
"I actually burst into tears. It's a huge shock. It's been a great experience, meeting new people."
Sophie Williamson, representing Dunstan Educare, was first runner-up and Tania Ferreira, representing the Combined Lions Clubs of Alexandra and Clyde, was second runner-up.
The combined clubs also won the people's choice float award for their Moana-themed entry.
Barry McCall, who was one of the project's masterminds, said it was a tradition for the groups to create a float.
"The award is a bonus, but it's not why we do it. It's a community thing."
Charlotte Jean Maternity Hospital won most artistic float, Clyde Playcentre won best small float and the Ruby family won best florrey.
Event manager Martin McPherson said he was surprised at how many tickets were sold.
"There was all that talk about the election and being outside the school holidays impacting numbers, but it certainly didn't," he said.
"We hit all our targets of providing great entertainment in a family-friendly and affordable fashion."
Senior Sergeant Ian Kerrisk, of Alexandra, said overall behaviour was great.
"It was a trouble-free weekend for us. Feedback is that it was a great, family-friendly event."
Three arrests were made at the weekend, but all were for minor offences, he said.