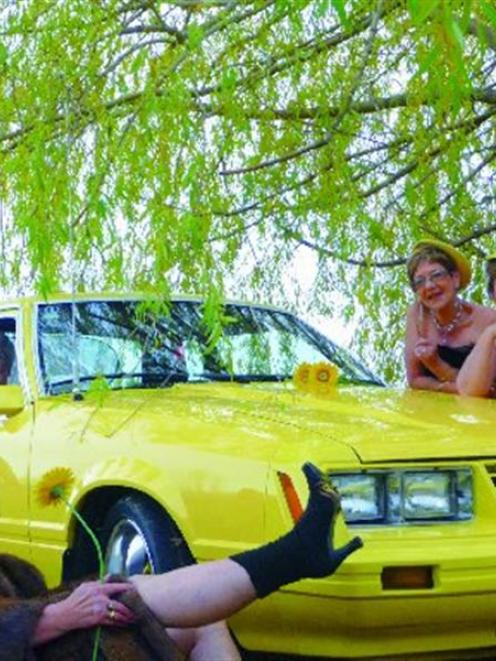 Finding enough people to pose for a "Calendar Girls"-style fundraiser? No problem, says Alexandra photographer Sue Noble-Adams.
What about stopping the camera shake as you line up the models for the nude calendar?"That was the hardest part," Mrs Noble-Adams admits.
"I've never laughed so much in my life.
"Most of the shoots were done in public and there were lots of startled looks, so half the time we were in hysterics."
The result - the "Forget-Me-Not" calendar, featuring mostly Alexandra men and women "as you've never seen them before" will raise funds for Alzheimer's Society support services inCentral Otago.
The 2010 calendar will be launched on Friday, July 24, and everyone who has taken part is connected in some way to the disease.
Mrs Noble-Adams cares for her husband John, who has had Alzheimer's for about 14 years.
She floated the idea of a fundraising calendar during a local support group meeting.
"I loved the Calendar Girls film so tossed the idea in there and my first two volunteers were both aged in their 80s and they jumped at the idea."
Alzheimer's Society Otago manager Julie Butler is delighted by the response.
"What's thrilled me is the whole reaction from the community, with the people who have donated their time and their services, and they're already talking about the next calendar, " Mrs Butler said.
The calendar, which is being printed by Otago Daily Times Print in Alexandra, was stunning and featured the subjects pictured with their favourite things.
Iris Pennington, of Alexandra, who was one of the models, said her late husband, Bill, hadsuffered from Alzheimer's.
"It's a dreadful thing," Mrs Pennington said.
"I married a strong, fit and healthy farmer, who became exactly the opposite."
Otago Daily Times Print manager Steve Morait is also in the calendar, photographed on his Harley-Davidson.
"It was something out of my comfort zone and I've had a bit of grief from the staff about being in it," Mr Morait said.
His grandfather had Alzheimer's.
The calendar, which is priced at $10, will be available from the Alzheimer's Society Dunedin office.