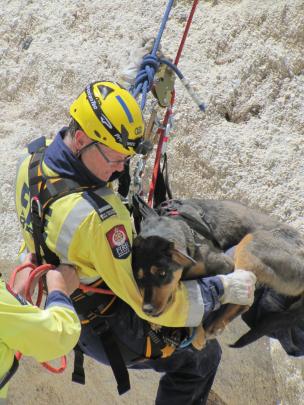 When Bowie the 2-year-old huntaway decided to chase a rabbit over the cliffs in St Bathans on Sunday, it probably seemed like a good idea at the time.
But his holiday adventures led to a night stranded on a ledge and an emergency callout yesterday involving 13 volunteer firefighters.
Bowie was rescued after being stuck on the ledge for almost 18 hours and the family was ''incredibly grateful'' for the firefighters' help, the dog's owner, Tom De Pelsemaeker, of Dunedin, said.
The episode started innocently enough, when the De Pelsemaekers, who were holidaying in St Bathans, and another family took their three dogs for a walk in the St Bathans diggings about 8pm on Sunday.
But Bowie's eye for adventure led to matters taking a turn for the worse, Mr De Pelsemaeker said.
''He just saw a rabbit and took off. Then it kind of turned to custard,'' he said.
Bowie became stuck on a ledge and no coaxing could bring him down. Eventually, the family returned to their section about midnight, reluctantly leaving Bowie on the ledge and returning about 5.30am yesterday.
Locals and visitors gathered and suggested it was time to call the fire brigade, and crews from Omakau and Cromwell, plus three off-duty firefighters holidaying in St Bathans, arrived late morning.
Using abseiling equipment, they brought Bowie down, and he was reunited with his owners about 1.40pm, dusty and thirsty but otherwise well.
The family said they had faith in Bowie's ability to survive his ordeal because of his hardy huntaway breeding, but he would be ''on a lead'' for his next walk around St Bathans.
Omakau Volunteer Fire Brigade Chief Fire Officer Lloyd Harris said the rescue was ''all in a day's work'' for the firefighters.
The firefighters were unable to take up the De Pelsemaekers' offer of a round of drinks and lunch at the Vulcan Hotel as they had to return to their stations, but the family planned to send some ''cold beverages'' to the Omakau and Cromwell stations to say thank you for the rescue.