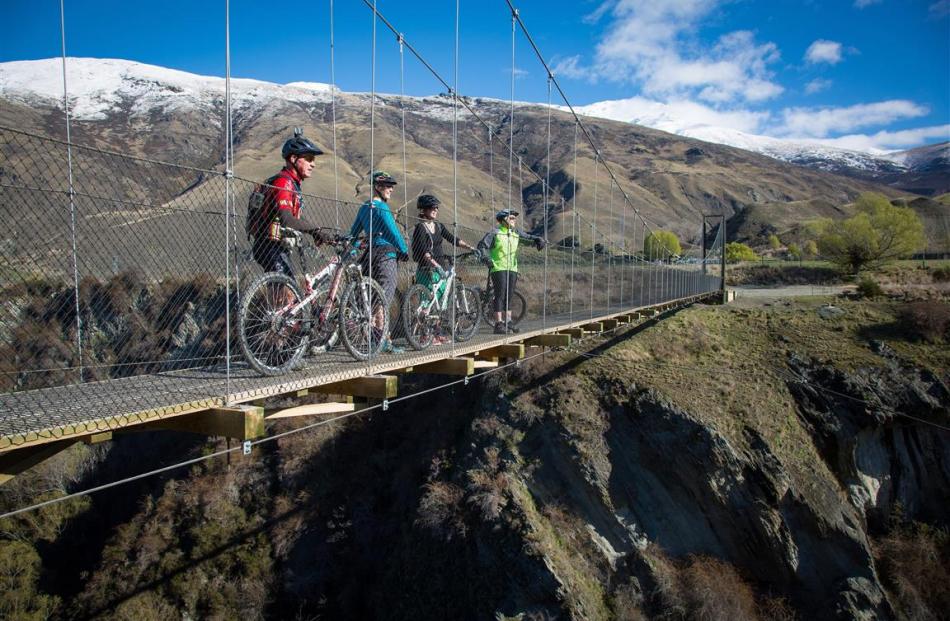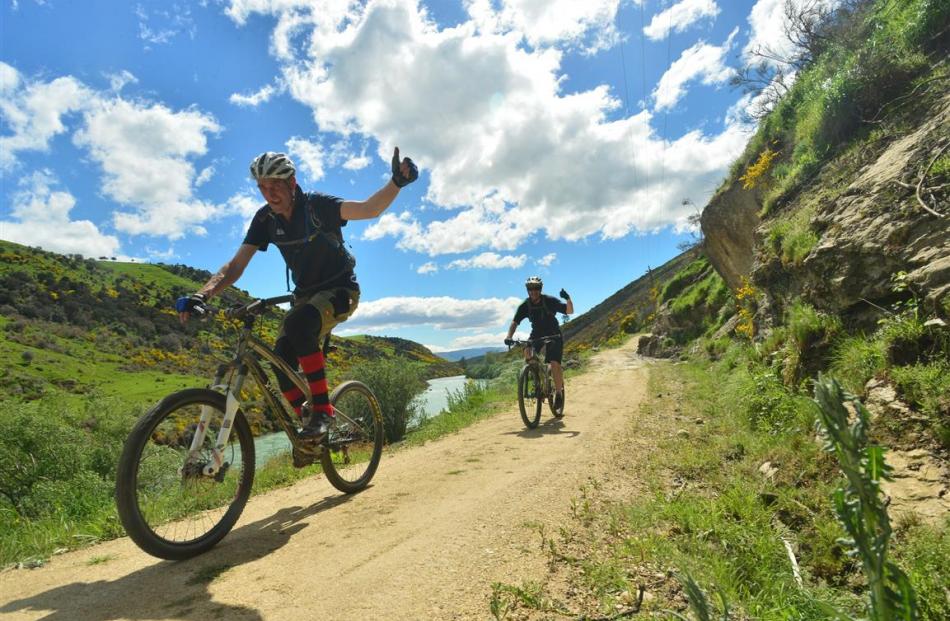 Early this week Prime Minister John Key announced a further $25million funding for cycle trails, around half of which will be used to link existing trails in Central Otago. David Williams goes behind the scenes to talk to locals who played a big part in making that announcement happen. 
Sir Eion Edgar was starting to get nervous.
Since March last year, a steering group had worked behind the scenes to sell the idea of linking Central Otago's cycle trails.
Costs were firmed up, applications were made and Government doors were knocked on.
The Queenstown-based Forsyth Barr chairman was called in as patron of the Queenstown Trails Trust - the 80m Edgar suspension bridge over the Arrow Gorge is named after him and wife Jan, Lady Edgar.
He also has great Government connections.
The group, the Central Otago Queenstown Trails Steering Trust, secured promises for just over $13million from the Central Lakes Trust and the Otago Community Trust to create a 536km cycling attraction.
Then the pitch to central Government began, which would eventually reach as high as Prime Minister John Key's office.
About nine months ago, Roger Wigglesworth - a director in the Ministry of Business, Innovation and Employment's tourism, sectors, regions and cities team - visited the area.
"He said he liked the idea,'' Sir Eion said.
"[He said he would] put it to Government, and then we obviously followed through and talked to the prime minister and his advisers.''
Former Queenstown Trails Trust chief executive Kaye Parker, who stepped down earlier this year, recalls pitching directly to Mr Key, via teleconference.
"He sounded positive,'' she said.
"But there's 20 million other people asking for money.''
The aim was to get a funding promise in this year's Budget, but then it all went quiet.
Sir Eion: "I suppose we were thinking, 'is it ever going to come?'.''
And then, about a month ago, the Government sent word it would pledge $13million and the announcement would be made by the prime minister pre-Budget.
That announcement was made last Sunday.
Sir Eion: "How do you invite people to it without telling them what it was? We got some good help from John Key's press secretary as to how to word it.''
The announcement detailed how new routes would also be built through the Kawarau and Cromwell gorges, and another from Cromwell to Wanaka, linking the Queenstown, Clutha Gold, Roxburgh Gorge and Otago Central Rail trails.
There's always been interest in linking the trails, Sir Eion says, but the driver behind the idea was former Queenstown Trails Trust chief executive Kaye Parker.
"It was really Kaye's vision that we need to make ourselves of truly international standard; we needed to link them up.''
What is it about the trails that make them so compelling?
Sir Eion says they are increasingly popular with international tourists, and a way to keep those tourists in the country longer.
They also allow local people and domestic tourists to explore places they previously couldn't get to.
Fundamentally, it's good for people to be outside exercising, Sir Eion says.
"Every time you drive down the Kawarau Gorge you look over and think, 'God, wouldn't it be fantastic to be cycling along the river?'
"The other thing that probably helped is the growth of tourism and therefore the recognition by Government that they do need to be putting money back into it.''
The previous week the Government announced a $12million fund to help small communities deal with freedom campers.
Which Sir Eion describes as: "The other expenditure and more toilets and everything.''
"It was a good time to be approaching them. It's fantastic.''
Central Otago Queenstown Trails Steering Trust chairman Stephen Jeffery said raising the money was the biggest challenge.
The two trusts must have realised they would get the funding applications separately anyway, he said, and it made sense to leverage off any Government commitment.
He said linking the trails was a disadvantage for proponents of a trail between Cromwell and Clyde - the feasibility study was long finished but, for the greater good, it was parcelled up in this larger project.
"During the [initial] meeting we agreed the network was the ultimate aim.''
So what's the next step.
Mr Jeffery said the trust had a trail in mind if it secured funding.
"I'm not going to tell you what that is because we'll probably re-look at that,'' he said.
"We may target a section we know that we can do, so the public can see that we can actually get on and get started.''
Potentially, work could start later this year.
Beyond that, there is the laborious work of easements and council consents, and sign-off from Heritage New Zealand.
Earlier this week, Mr Jeffery said new trails going through the Cromwell and Kawarau Gorges would be the most expensive.
In both gorges the trails would be built on the opposite side of the water to the road.
Both had technically challenging features.
While a feasibility study had been completed, engineering work would be required.
On steep sections of the gorges there would be a need to crack into the rock, he said.
"But all the dangers were addressed in the feasibility study.''
---
Trail funding
The Central Lakes Trust is giving $11.15million to the cycle trail network.
Since 2007, it has granted $3.35million towards trails and feasibility studies for trails.
Its input since 2007:
Funds for trails
Upper Clutha Tracks Trust: $250,000
Queenstown Trails Trust: $1,100,000
Gibbston Community Association: $80,000
Arrowtown Village Association: $30,000
Clutha Gold Trail Charitable Trust:  $830,000
Roxburgh Gorge Trail Charitable Trust: $570,000
Coal Creek Cycleway Trust: $32,000
Otago Central Rail Trail Trust: $140,000
Feasibility studies
Kawarau Gorge Trails Charitable Trust: $71,000
Cromwell Gorge Trail: $73,490
Upper Clutha Tracks Trust: $25,000
---