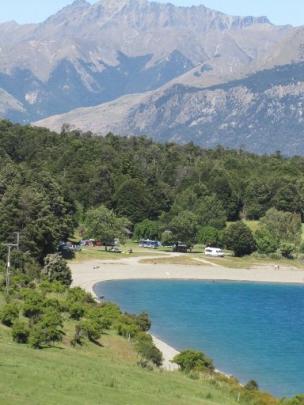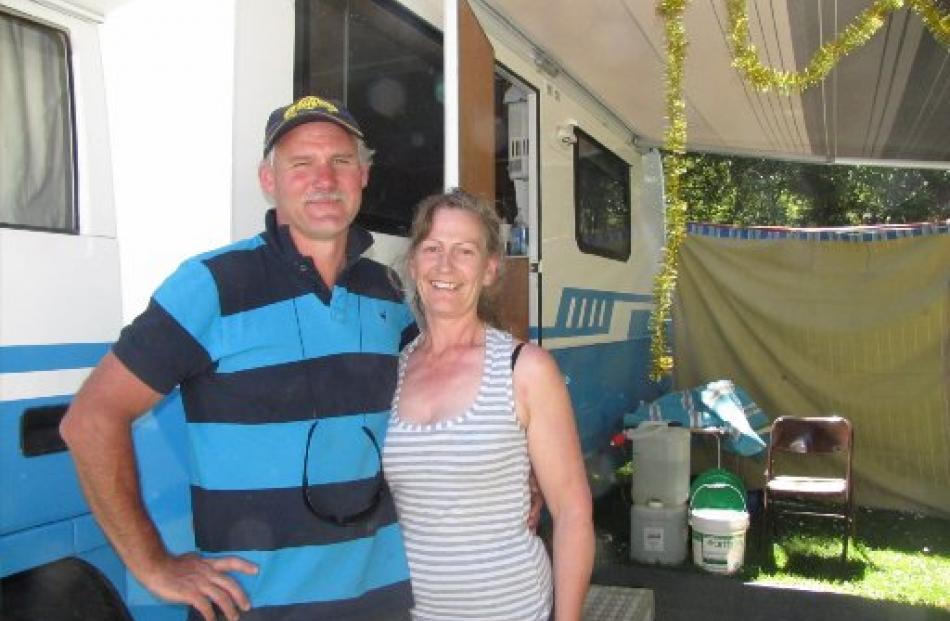 Tucked away among mountain beech trees in a scenic bay on the northwest shore of Lake Hawea is a tiny camping spot frequented by a diverse range of people, all with a story to tell. Lucy Ibbotson finds out what makes the Kidds Bush Reserve such a special place for those who camp there.
With just 40 tent sites, the Department of Conservation's (Doc) Kidds Bush Reserve is in little danger of becoming overpopulated, and that is just the way its inhabitants like it.
Among the hundreds of campers visiting Kidds Bush this summer was Dutch woman Brenda Idsinga, originally from Rotorua, but now in her fourth year "on the road", travelling around New Zealand with her husband Gerben and their cockatoo Darling.
"This is beautiful," she said, from her deck chair vantage point next to the couple's motorhome at Kidds Bush.
Mr Idsinga was out in his canoe when the Otago Daily Times stopped by, but Mrs Idsinga and Darling favoured a more restful afternoon in the shade.
Of all the many camping grounds the Idsingas had visited throughout New Zealand, Kidds Bush ranked particularly highly.
"Definitely an eight or a nine.
What's there not to like?" Alistair Clark and his partner Cindy Walker brought their two children to Kidds Bush for the second summer holiday in a row this year, as part of a group comprising several Christchurch families.
The couple prefer the reserve's "more laid-back" atmosphere, as opposed to other spots where campers are "packed in like sardines". The affordability of the camping ground also added to its appeal, they said.
The secluded campsite provided a chance to spend a week by the water, stress-free and a world away from the earthquakes back home.
"It's a magic spot," Mr Clark said.
"It's so easy to keep an eye on the kids swimming ... and you can be swimming in the lake at 9 o'clock at night."
While the adults in their group pass the time at Kidds Bush by reading, relaxing and "having a few drinks", the children among them ride bikes, go fishing and dive for lost fishing lures.
"And there's a walk right behind us, but we're all too lazy," Ms Walker said. The camp's only downsides were the "oodles of sandflies" and having to travel the 32km into Wanaka to do the daily supplies run.
Invercargill couple Noelene and Ian Dackers have been going to Kidds Bush for about 30 years, introducing their children and grandchildren to it during that time.
This summer, tradition once again brought them back to their favourite camping site in their house bus, along with their son Kevin and his wife Lynley, of Alexandra, who were staying in their campervan.
The younger couple have formed such a strong attachment to Kidds Bush, they even held their wedding in a marquee at the reserve last February.
"We just loved the place so much we decided that we wanted to get married there," Mr Dackers said.
He was pleased there were limited sites available at the camping ground, as word of its special charm and beauty was spreading.
"It's getting busier here. More and more people are knowing about it, but that's just the way of life."
"You've got to share," his mother agreed.
Mr Dackers said those who had been coming to the camp for many years were keen to preserve its family-oriented atmosphere.
"God help anyone that steps out of line. We sort of crack down on it pretty quick."
The family hoped access to the reserve would not be cut off to campers in the future and keeping a lid on bad behaviour there was an important part of that, they said.
The access issue has arisen in the past because of antisocial activities of visitors to the reserve as they passed through Hunter Valley Station causing stock management problems.
The High Court has ruled station owners Taff and Penny Cochrane can control the opening and closing of Mead Rd, which leads to Kidds Bush, during lambing season, until November 18.
People wanting to camp at Kidds Bush at Labour Weekend have to contact the station for permission.
The Queenstown Lakes District Council and the Cochranes have been dealing with the issue of ownership and control of the road for some time.
The dispute centres on whether the road is a legal one, over which the public has access.
"We just have to respect the privileges we've got," Noelene Dackers said.
Doc's Kidds Bush camping ground summer warden Danny Steel, a plasterer from Christchurch, knows all about antisocial behaviour at the camp, having dealt with plenty of it last summer.
Mr Steel has been holidaying at Kidds Bush for about 10 years, but is in just his second summer working for Doc there, collecting camp fees, cleaning the toilets - or at least his daughter does, and doubling as security to "keep the riffraff out".
"I make sure there are no dogs, firearms, nobody hooning around in cars or motorbikes," he said.
"And because I'm the bouncer here, I shut everybody down at 10pm." The police and fire brigade visited Kidds Bush last summer after a group of youths lit a fire on the beach.
"And some guy got liquored up and started running around with a gun." Twenty young campers were evicted as a result of their actions while under the influence.
"We just don't put up with it now."
Mr Steel spends his working summer holiday with his children and wider family, and when not keeping an eye on his fellow campers, he is usually out boating and fishing.
"We normally get between 80 and 90 trout and salmon [each summer], between two pound and seven pound [0.9-32.kg]."
He said the camping ground clientele had changed a lot over the years and it was now luring more young people to its shores.
He attributed the occasional bout of bad behaviour at the camp on liquor bans in neighbouring towns.
Kidds Bush Reserve
- Department of Conservation camping ground.
- On the northwest shore of Lake Hawea, down Mead Rd, 40 minutes' drive (32km) north of Wanaka off SH6.
40 tent sites.
Most popular time of year is Summer and Autumn.
Cost: Adult $6 per night, child (5-17 years) $3 per night, under 5 free.
Activities include walking, fishing, water sports, climbing and mountain biking.
Facilities include tap water, toilets, boat ramp, picnic table and shelter. No shower facilities and no dogs permitted.