A proposed 10MW data centre to be built near the foot of the Clyde Dam will collectively feature eight containerised data centres, each expected to hold 368 servers, a document reveals.
Those details are contained in a Contact Energy resource consent application released to the Otago Daily Times by the Central Otago District Council.
The data centre will be owned and operated by UK-based digital infrastructure start-up Lake Parime on about 0.65ha of land owned by Contact under a lease agreement.
The application states data centre operators were looking for secure renewable energy sources to power computers designed to process large volumes of data in response to emerging markets such as machine learning, data modelling and cryptocurrency mining.
The proposed datacentres would operate on ''flexible demand'', meaning processing could be managed to reduce demand during periods of low river flows and optimised during periods of low electricity demand or when the Clyde Dam would otherwise be required to spill water — when Lake Dunstan was at capacity.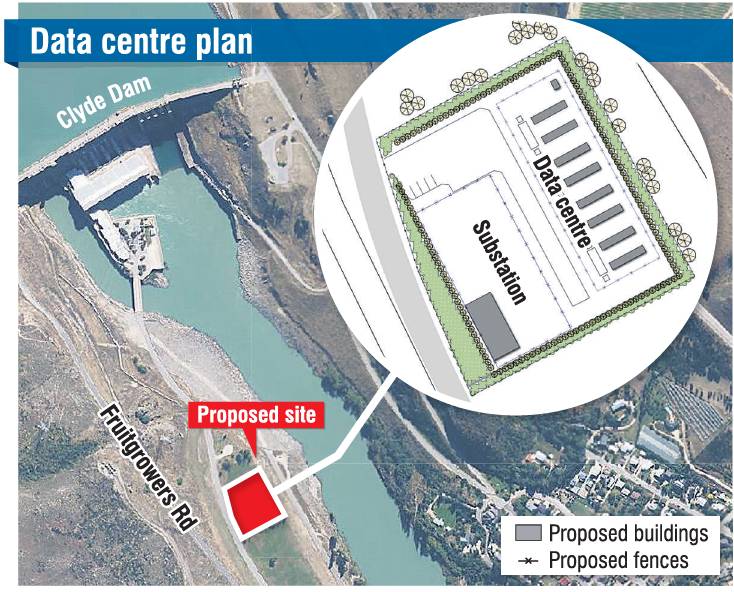 The application also includes provision for a 3.5m high noise mitigation wall along the eastern and southern boundaries of the site and for landscaping and planting around the perimeter of the site.
The proposed development of a substation by lines company Aurora within the application site is linked to the development of the data centre.
From 2025, the proposed substation would improve the reliability of electricity supply to the Clyde township and wider Clyde area.
Until the substation became a shared use site in 2025, all costs were being funded through the construction of the data centre.
From 2025, a cost-sharing arrangement would be in place resulting in lower (than otherwise) line charges to Aurora's existing customers compared to the replacement of the Clyde-Earnscleugh substation on a stand-alone basis, the application says.
''The data centre operator will pay a share of the network charges and other common costs associated with the Clyde connection point, reducing the individual Clyde township household share of the payments for this infrastructure.''
Lake Parime would employ local contractors in construction and ongoing maintenance roles and create a ''a small number of highly skilled maintenance jobs to manage the servers within the data centre and associated electronic and electrical services.
''More importantly, [it] will promote the development of high-performance computing infrastructure that could form the basis for a new industry for the area.''
Lake Parime claims to operate data centres in the UK, Canada, and US, but details are limited.