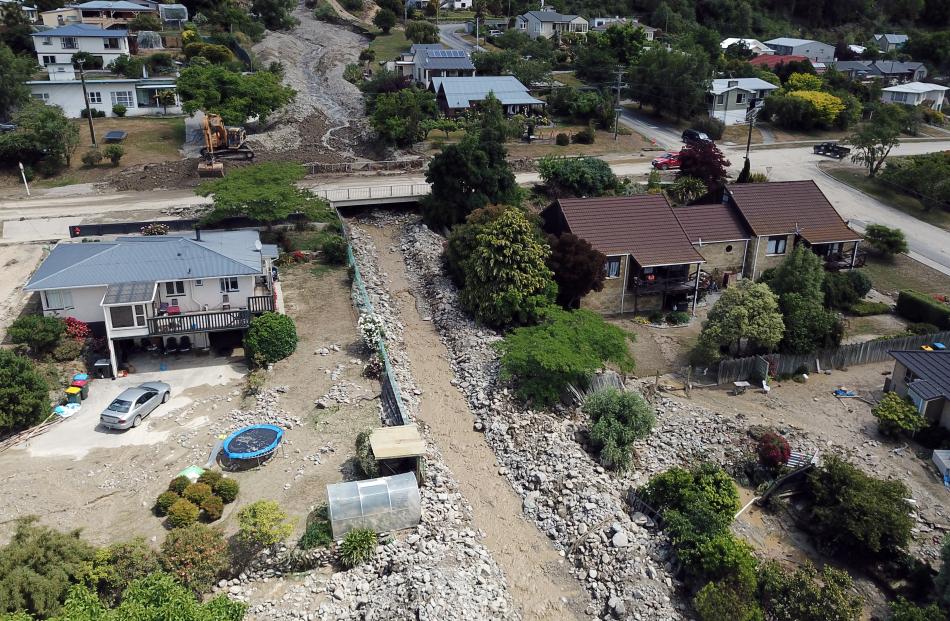 Roxburgh residents will wake up to a second day without running water this morning following severe flash flooding on Sunday.
The town is still in crisis mode after about 40mm of rain fell in three hours on Sunday afternoon, causing slips in the district and cutting off the town and its water supply.
Tonnes of rocks were washed down Reservoir Creek.
Water tankers and portable toilets were brought into the town for residents, while volunteers and emergency services personnel spent yesterday mopping up the mess.
State Highway 8 from Millers Flat to Roxburgh and SH8 Roxburgh to Coal Creek remained closed.
A bypass was in place across Roxburgh Dam and along Teviot Rd to Millers Flat.
The roads will be reassessed this morning.
Central Otago Mayor Tim Cadogan said the water supply could not be turned on until tomorrow at the earliest.
The pipe to the town's reservoir was ruptured by the floods on Sunday night and the water reservoir had drained and was completely empty.
Jimmy's Pies owner Dennis Kirkpatrick said the business was closed yesterday because there was no water.
The shop and factory would stay closed today and only open once the water supply was restored.
He was concerned the water might be contaminated and the pies could be of a poor quality, even though they were baked in an oven.
''As soon as the water's on, we'll be flat tack and we'll do second runs for some customers,'' Mr Kirkpatrick said.
Meanwhile, the water supply at the Lake Roxburgh hydro village was likely to last another day and residents there were being asked to conserve water.
Roxburgh Area School would be shut today, and possibly longer if the water was not turned on, principal Gary Pasco said.
The school was flooded in the main foyer, one of the primary classrooms and a science lab.
''When we've got [a] water [supply] that will be one of the big handicaps out of the way, but [the school] definitely won't open without water,'' he said.
The Central Otago District Council did not know whether there was a problem with containing sewage yesterday.
''With the water system shut down, we don't know if there is damage to our sewerage because all those pipes are underground or, at the moment, rubble,'' Mr Cadogan said.
Power was off after the storm and supply was restored yesterday in Roxburgh by 5pm after being back on in Millers Flat by 2pm.
Power was back on at Teviot Valley Rest Home last night.
North Roxburgh, by Reservoir Creek, was the worst-affected area.
Rocks slid down from the hill into the creek, destroying gardens.
Eight houses in Tweed St, by the creek, were evacuated on Sunday night for a few hours.
Some of the residents went to the evacuation centre, but many citizens opened their doors to take in the evacuees.
Offers of assistance were made by residents on the Teviot Valley Noticeboard Facebook page, including offers from people who still had running water to those who wanted to have a shower.
''As Kiwis are, and particularly southern Kiwis, the doors got thrown wide and people were generally looked after by their neighbours,'' Mr Cadogan said.
He said the last major flood in Roxburgh was in 1978, which was Central Otago-wide. There was a smaller flood in Central Otago in 1999.
Teviot Valley Rest Home manager Marian Hamilton said the home was without power for the night but the 14 residents were fine.
''Most of them have no idea why they can't watch telly. Everyone was better off to stay here where they were familiar and warm and dry.''
Some shops stayed open, such as the Supervalue supermarket.
Supermarket manager Kath Toms said there were late deliveries yesterday and staple items were selling fast.
''Milk, bread, water are probably the top three things.''
The Central Otago District Council and emergency services advised people to stay out of Roxburgh, even if they had family or friends there.
''We've got silt all over the place so people driving through just having a nosy, that's just kicking up dust so please don't come and visit Roxburgh for once,'' Mr Cadogan said.
Teviot Valley fruitgrowers said the rain - and some hail that fell during the rainstorm in Coal Creek - had not damaged the cherry crop and would in fact help the fruit.
The extra rain would also save orchardists from irrigating for a time, Stephen Darling, of Ettrick, and Gary Bennetts, of Coal Creek, said.