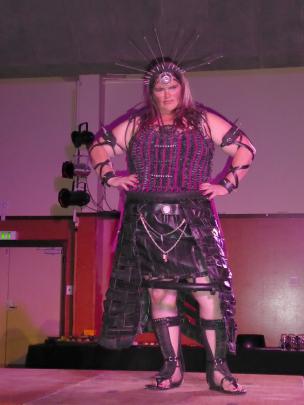 Linda Bullard put the cycle back into recycle and stole the show.
The Naseby artist spent hundreds of hours transforming discarded bike bits into a warrior princess-style outfit and won the "Anything Goes" section of the Central Otago Trashion show. It was her first entry in the event and she was inspired by cyclists on the Otago Central Rail Trail.
"The bikes are environmentally friendly but I wondered what happens to all the rubber left from punctured inner tubes and wheels," she said.
Her outfit was created after "raiding the bin" at a bike shop  and used inner tubes, tyres, chains, spokes and valves, sewn, knitted and woven together.
The aim of the Trashion event, held in Cromwell on Friday night, was to showcase waste or recycled materials turned into fashion. This year's show attracted 16 entries.
Judge Anne Lyon said the detail in Ms Bullard's entry was amazing.
"It's the total package and it's just about used everything recyclable on a bike. She's thought of everything, from her shoes and accessories right down to the tyre-mark on her face."
There were three categories: "Too Good to Waste", for businesspeople using waste products from their own business; "Anything Goes", open to all, and a new section for a hat made out of recycled material.
Keitha  Warren won the business section for her entry on behalf of Dunstan Hospital, titled Panacea — Goddess of the Universal Remedy. It was made from bedpan covers, X-rays, intravenous fluid bags, packaging and single-use instruments.
An "amazing technicolour dream bonnet" made out of recycled wool by Debbie Turpen,  of Cromwell, won the hat section. Edie Affleck (8), of Cromwell won the "best performance" award and Julie Morton's entry Silver Tink was judged most eye-catching.
Trashion was organised by the Cromwell Community Arts group.