A survivor of a crash in the Lindis Pass that claimed two lives, caused by an inexperienced Chinese driver, wants to see rental car companies imposing tougher controls on who it hires vehicles to.
Laura McIntosh (28), of Timaru, was a pillion passenger on her partner Grant Roberts' motorcycle and received life-threatening injuries in the November 26 crash which killed him.
Still recuperating, she returned to the site for the first time yesterday, accompanied by Mr Roberts' sisters and the head of Cromwell police, Sergeant Simon Paget.
''I can't remember anything about the crash and I want to understand how it happened and where it happened and see the place for myself ... and maybe get some closure.''
The driver, Kejia Zheng (20), a student, was sentenced in the Alexandra District Court in December on four charges arising from the crash, ordered to pay $10,000 emotional harm reparation to the victims and their families and disqualified from driving for two years.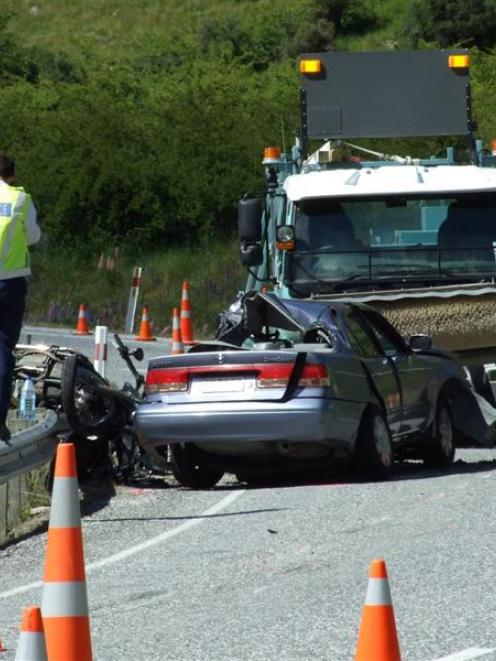 She admitted driving carelessly, causing the death of Mr Roberts (43), of Timaru, and Dennis Michael Pederson (54), of Tauranga, and injuring Miss McIntosh and William Vincent Ridley. Judge Stephen O'Driscoll said the crash was caused by her inexperience, both generally and specifically on New Zealand roads.
Zheng rented a car while on holiday, drifted into the gravel on the left-hand side of the road and lost control, sliding into the path of a group of motorcyclists, who were travelling in the opposite direction.
Mr Roberts and Mr Pederson were thrown several metres and died at the scene. Miss McIntosh said she wants rental car companies to think about who they give cars to.
''She [Zheng] had no knowledge or understanding about our roads, so rental car companies need to realise when they hire out vehicles, they might be putting people in danger ...
''I don't think I'll be able to forgive her.
''I don't understand why someone so young and so inexperienced would drive. But I do have empathy for her - the crash is something she'll never be able to forget.''
Miss McIntosh and her partner were in a group of about 20 friends who had been at the Burt Munro Challenge in Southland before the accident.
''It was my first time at the Burt Munro and we had a great time. I intend to go back one day.''
She recalled leaving Invercargill, travelling through Cromwell ''and then sort of woke up and it was seven days later''.
Her left ankle, arm and right femur were broken in the crash, the bottom part of her leg was de-gloved, she broke ribs and fractured vertebrae and spent two months in Dunedin Hospital before being transferred back to Timaru. She now had plates and rods to hold bones together and faced further operations and skin grafts, but was ''coping the best I can, with the support of family and friends''.
Miss McIntosh's life had ''stalled'' since then and she had lost her independence, going from managing a restaurant before the crash, to shifting back in with her parents.
''The worst thing in hospital immediately afterwards was every time I woke up, confused, I'd forget what had happened and every time someone would have to tell me again about the accident and what had happened to Grant - that happened for three or four days.''
Her partner of five years was an ''amazing, strong, independent person'', a family man with four children, who wanted to ''look after everyone and keep everyone safe''.
Mr Roberts was always the life and soul of the party and kept everyone entertained.
''He suggested to someone on our way home that he'd swap me for a bucket of muttonbirds.''
Her near-death experience made her appreciate the small things in life.
''I just want to be happy and I'm trying to smile where I can.''
Sgt Paget said Miss McIntosh was incredibly brave.
''She puts a face on what a moment's inattention can do, and the consequences, which never go away ... from one stupid driving mistake that could've been avoided.''
A member of the public had phoned police concerned about Zheng's driving at Twizel on the day of the crash, he said. Police responded but were unable to find the vehicle and there were no further reports of bad driving.
Southern district road policing manager Inspector Andrew Burns said complaints about driving were being given top priority by police, to make the roads safer. Any which involved drivers in rental vehicles were being followed up with rental car companies.
Although drivers were meeting the conditions to hire vehicles, police were monitoring driving behaviour and had no hesitation in ordering drivers off the road, he said.