High profile Maniototo farmer and irrigator Geoff Crutchley has called on the Otago Fish & Game Council to do things differently when dealing with rural communities, following an adversarial process resolving a landmark global water consent in the Kyeburn district. Pam Jones asks where to from here?
When Hamish McKenzie was speaking to attendees at the Irrigation New Zealand conference earlier this year, his comment about how he would go about gaining a new collective water consent if it could start again drew a frank response.
When asked what the group would do differently, the Kyeburn Catchment Ltd (KCL) director joked "Give Fish & Game $600,000 and say 'sign here'.''
Everybody laughed, but news the consent process had cost irrigators more than half a million dollars was sobering.
So too was the criticism of a group tasked with protecting Otago's fish and game resource, and which was stung by the finger-pointing.
Outgoing Otago Fish & Game chief executive Niall Watson said in response it was unfair to blame the council for the delays and cost of the Kyeburn water consent process, and that Mr McKenzie's comments gave the wrong message and missed the point.
The interest of Fish & Game, which had appealed a consent issued to KCL by the Otago Regional Council (ORC) in 2017, was always in restoring the flow to ``an historically over-allocated catchment'', Mr Watson said.
"It's about leaving enough water behind for the river to function. The more water left in the river, the healthier and more resilient the river will be.''
Mr Watson added to those comments at last week's Fish & Game Council meeting in Cromwell, saying the new Kyeburn consent almost signed off represented only an "adequate'' outcome in Fish & Game's view, and the council had compromised heavily.
Mr Watson was responding to a call from high profile Maniototo farmer and irrigator Geoff Crutchley, who made a presentation to councillors asking for the council to take "a new approach'' to dealing with rural communities.
Mr Crutchley resigned a couple of years ago after 30 years as chairman of another group, the Maniototo Irrigation Company, and said he was now an "unofficial observer from the sidelines'' as farmers and others with an interest in water carried on.
He said his first experience with Fish and Game 30 years was "a typical adversarial process of claim and counter-claim'', but a subsequent "round the kitchen table'' meeting between parties paved the way to positive settlement and began a "good and productive relationship'' and friendships with Mr Watson and Fish & Game Council chairman Monty Wright.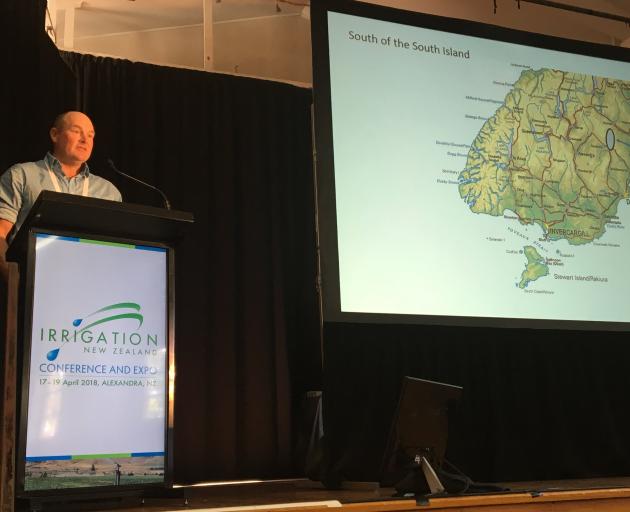 Mr Crutchley said not all disputes could be so quickly resolved, "but I think it illustrates an important truth''. "The gap between the residents and communities who raise their families near rivers, and those who visit and come to treasure the land and water resource for aesthetic and recreational values, is smaller than you think'', he said.
"I don't know how many of you [councillors] are farmers, but I know a lot of farmers who are anglers, or whose children, like mine, learned to cast a lure in the local river''.
Mr Crutchley said it could be difficult to change attitudes and cultures. He acknowledged frustration on both sides about water issues.
"Farmers and anglers both feel that they are losing, and they are. It has got to the stage that each celebrates the other's losses, even as they themselves become worse off. We are both getting a poor deal. We could be both doing so much better.''
He said it was a shame that, despite KCL's water consent being close to sign-off, the company and its users owned no collective infrastructure, such as dams.
"What if the farmers and Fish & Game had sat down as partners from the beginning and looked at options for developing a new system for their mutual benefit? What if the money spent on scrapping over the last 20 litres per second during low flow had gone towards long-term development of shared storage and infrastructure to guarantee those flows and provide new fisheries? Think about the gain in social capital, compared to the loss that has resulted from another bitter adversarial process.''
Mr Crutchley said the negotiations between Kyeburn irrigators and Fish & Game had resulted in some lost friendships. Some in the Kyeburn district had "lost a lot of money that they needed for their farms and their families and they will not soon forget''.
Mr Wright said he was also sad to have lost some friendships within the Kyeburn district.
He thought Fish & Game had been "fair throughout the whole thing'', but acknowledged the missed opportunity from the lack of "round the table'' discussion.
All acknowledge negotiating a landmark consent for water rights - Kyeburn's is thought to be the largest so far through the Otago Regional Council process that requires all historic water permits to be turned into new resource consents by 2021 - was never going to be easy.
Kyeburn irrigators now wanted to move on, Mr Crutchley said.
They have invited Fish & Game councillors to visit Kyeburn and tour the catchment "to see what they are doing with the water'', and to attend a meeting of the broader Upper Taieri Water Management Group.
Councillors have accepted the invitation and a date for the visit is being finalised.