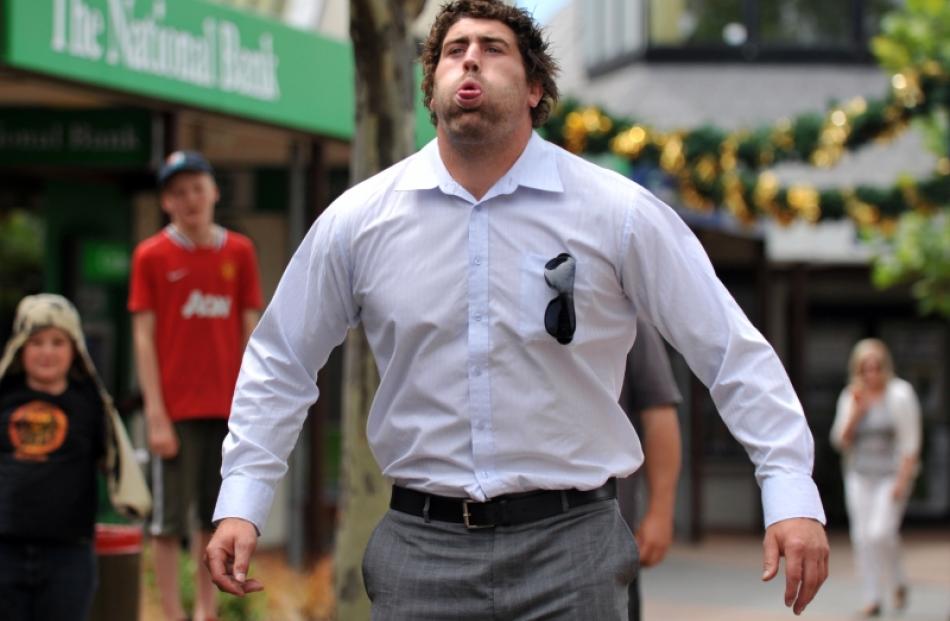 About 6.5kg of ''aerodynamically grown'' cherries had their flesh eaten before their stones were forcefully spat out in front of a few hundred spectators in Cromwell yesterday.
Organised by the Cromwell and Districts Promotions Group, the national cherry spitting championships attracted a field of 99 contestants from around New Zealand and Australia. They stepped up to the mark and spat cherry stones up to a distance 11.5m.
''You know it's a good spit when you hear it whistle past your ear,'' group chairman Adrian Somerville said as he measured how far the stones had been propelled.
''The cherries have all been aerodynamically grown,'' he joked.
No records were broken yesterday. The winning spit, by Cromwell's Michael Wardill, was more than a metre behind last year's record-setting 12.58m spit by Aaron Collins, of Dunedin.
Mr Wardill's longest spit was measured at 11.5m, 8cm more than the Australian champion Clinton Thompson, of Perth.
Mr Thompson, a trades assistant in the mining industry, first ''spat'' after his cousin talked him into entering the Australian championships in Manjimup, Western Australia, because ''when I was a kid, I was good at spitting watermelon seeds''.
His trip to New Zealand to compete was part of his prize.
As well as $100 to be spent in the Cromwell Mall, Mr Wardill will receive $400 towards travel to the transtasman cherry spitting championships in Manjimup later this year, if he chooses to go.
Winner of the women's section was Dianne Morrison, of Invercargill, with a spit of 7.64m. She also received a $100 voucher for The Mall.
In the children's section, Callum Taylor (15), of Australia, won the boy's section with an 8.2m spit and Amelia Wilkinson (13) won the girl's section with a 4.97m spit.
They each won $50 vouchers for The Mall.