The Clutha River is dropping this evening and an eye is being kept on the level as more rain is forecast, but this is not expected to have a significant effect.
The Otago Regional Council said this afternoon its hydrology staff had inspected the lower catchment of the Clutha. All rivers were contained within their banks and all drains were running freely. The mouths of the Clutha were both open and operating.
The Pomahaka River was continuing to fall. The ORC said there could be an increase in its levels with the predicted rain, but it was not expected to be enough to significantly affect the Clutha.
Ongoing rain might also impact on areas with surface flooding around Lawrence, Milton, Tapanui and coastal parts of the district.
READ MORE
The rain and flooding have led to boil water notices being issued for the following areas until further notice:
Glenkenich, North Richardson, Tuapeka West, Evans Flat, Waihola, South Richardson (Kaka Point), Stirling township, Benhar, Cherry Lane, South Bruce.
A number of roads remain closed in the district.
In an update at 5pm, the ORC said water levels in the Clutha now slowly receding and the flow was around 2300 cumecs after peaking at 2700 cumecs. 
Ongoing rain could cause it to rise again overnight but it was expected to remain contained within the banks and flood scheme, and lower than the earlier peak.
Earlier today, the river was running at the highest levels recorded since November 1999 and Clutha District Mayor Bryan Cadogan said it was too early to assume the worst was over.
"We still need to be cautious, and will be keeping a running watch with further rain and a high tide on the way this afternoon."
Mr Cadogan said he had travelled to Lawrence this afternoon to help with clean-up efforts in the town.
"Some of the residents here have had their properties flooded two years in a row now, so we're just doing what we can to help with bailing out and a bit of a tidy-up. Your heart goes out to them."
Clean-up
Parts of Dunedin and the rest of the region have been in clean-up mode today and Otago Civil Defence and Emergency Management (OCDEM) staff remained activated in the Clutha district where the Pomahaka River was still rising this morning.
Parts of the Otago region experienced up to 151mm of rain, recorded at Swampy Summit, in the last 48 hours.
Earlier, almost 30 roads remained closed in the Clutha district and the council warned that not all closed roads were sign-posted.
In the Waitaki this morning 16 roads remained closed and 20 under caution and heavy winds downed trees after yesterday afternoon's heavy rain.
The Maniototo was hit particularly hard, with many roads closed and schools closed today. Residents were advised heavy rain has resulted in high levels of stormwater entering the wastewater system, meaning they may be having problems with pipes draining and toilets flushing.
The ORC said the majority of rivers and streams in flood yesterday and last night had peaked and flows were starting to recede.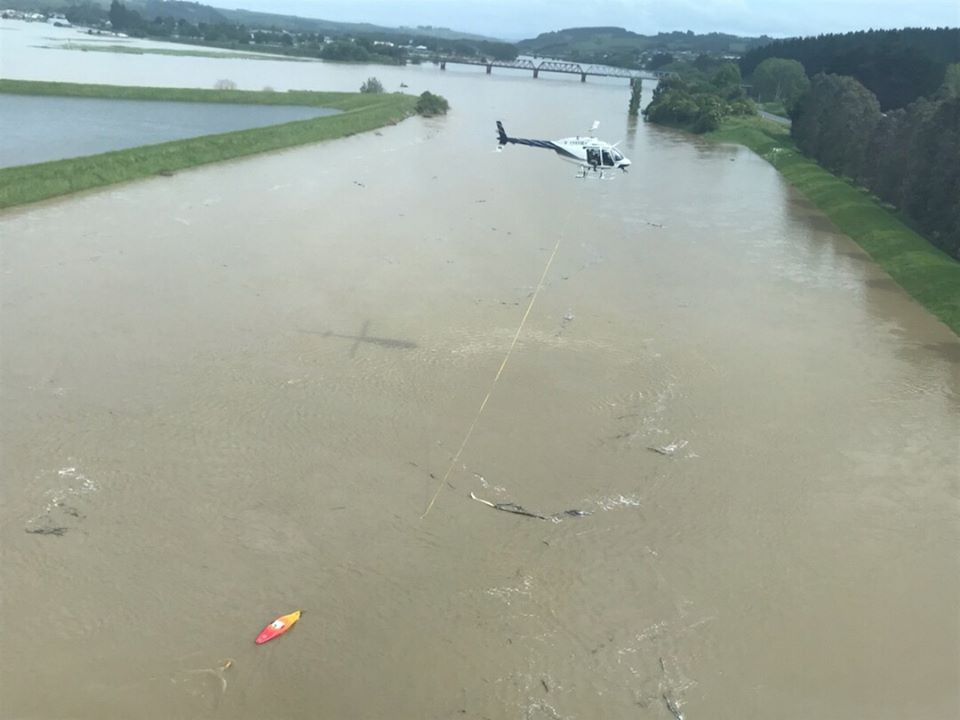 Mr Cadogan praised the efforts of officials and members of the public in addressing the emergency situation.
He earlier said the Clutha was running at the highest he had seen in 20 years.
It had been rising overnight and was running at 2720 cumecs this morning, but for the first time since midnight the levels were now holding and there had been a slight decline, Mr Cadogan said.
The Clutha had caused flooding in places, including near the Balclutha Aerodrome and in the Inch Clutha, but would only start causing more serious problems if the flow increased to more than 3100 cumecs.
This was not expected to happen and OCDEM staff who activated overnight were keeping a "watchful eye" but believed the situation was "under control".
"The Clutha River when it gets angry is just a river you need to keep an eye on."
Mr Cadogan said the Clutha region was lucky high tide did not coincide with the peak flow of its rivers, as this would have led to more serious flooding.
It had stopped raining and high tide was not until mid-afternoon, which were both positives for the region.
He said Silver Fern Farms had closed its Finegand plant for the day and the Clutha Valley School had closed for the day.
Other closures were possible and some people taking NCEA exams could be affected.
ORC said the Clutha River was being closely monitored by its flood management staff, and engineering and operations personnel were also onsite to also keep an eye on the situation. 
Overnight, staff installed a barrier where the main South Island railway line passes through the Balclutha flood banks, to help protect the township from flooding.
The Taieri River at Outram peaked at 1400 cumecs at 9pm last night.
ORC opened the Riverside spillway gates late afternoon to divert water into a ponding area that is part of the Lower Taieri Flood Protection Scheme.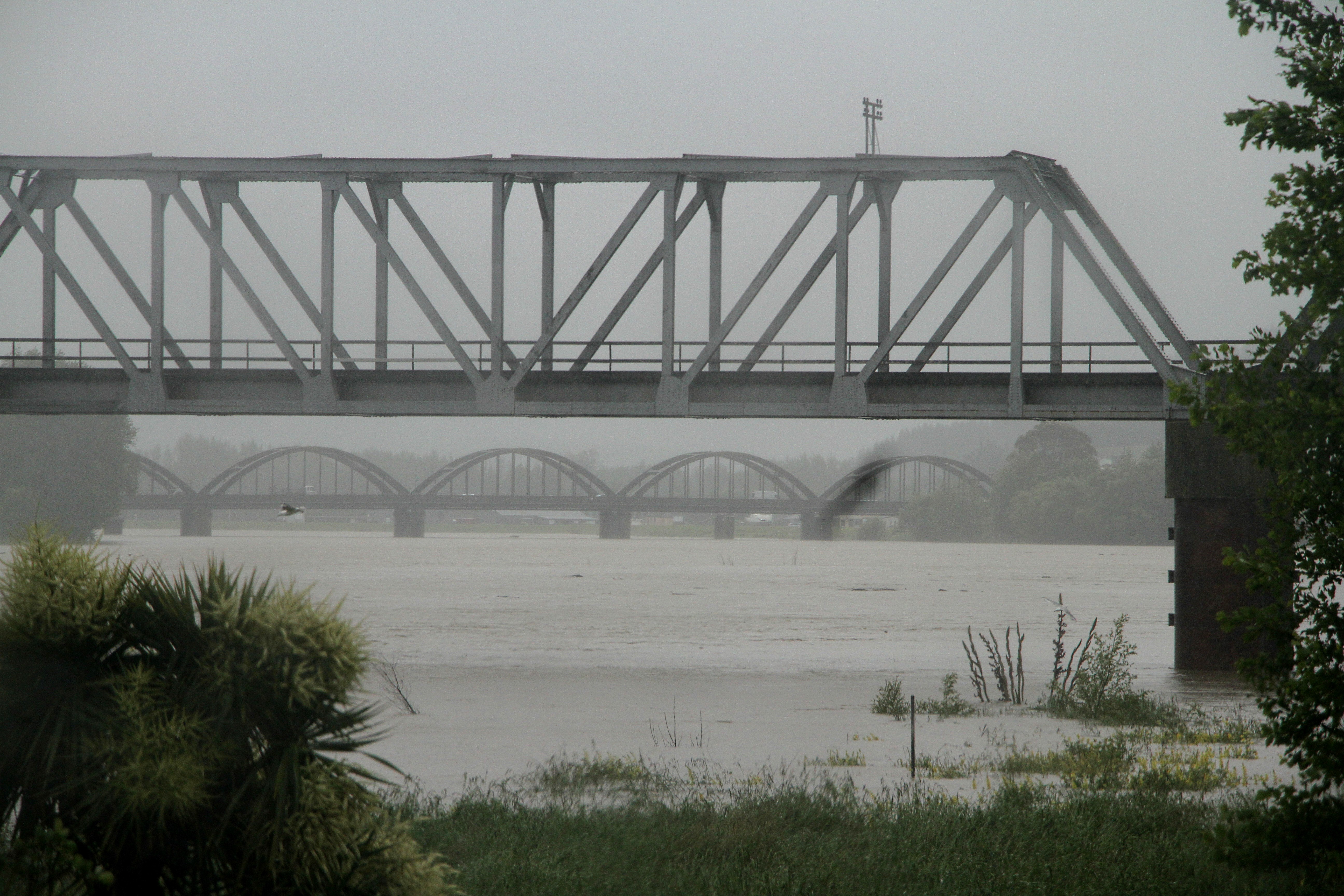 This was done to reduce the effects of flooding on properties further down the river at Henley.
The upper pond is continuing to fill and has received a significant amount of water as per its design.
ORC staff are monitoring water levels in the pond.
Flows will remain high throughout this catchment, especially with regard to the Lower Taieri Plains. 
Among the highest 48 hour rainfall recordings by ORC were:
Lochindorb - 101mm
Hindon - 106mm
Swampy - 151mm
Blue Mountains - 117mm
In the Clutha many roads may now be passable and council staff and contractors are out assessing the situation.
However, there will be extensive road and bridge damage and there will not be signage at all sites. Drivers are asked to exercise caution on all roads, to obey road closed signs and to be vigilant for debris left by the receding water.
Most southern highways have reopened but State Highway 90 remains closed at the Pomahaka River Bridge, south of Glenkenich. There are still area warnings in place on several roads.
CENTRAL OTAGO
The Central Otago District Council is advising Maniototo residents that heavy rain has resulted in high levels of stormwater entering the wastewater system, meaning they may be having problems with pipes draining and toilets flushing.
Residents in Patearoa, Naseby and Ranfurly have been asked to conserve water until further notice.
"Have short showers, don't flush toilets, avoid putting your dishwasher on and save your washing for another day. Portaloos were being organised where required, a post from the council said.
The stormwater was contaminated and residents should not walk or drive through it and children should not be playing in it, it said. 
There is also a boil water notice on the Omakau and Ophir council water supply. 
Many roads remained closed in the Maniototo.
River levels are still climbing from snow melt and more closures are likely as this happens, the district council said. High winds have caused trees to come down and many roads are blocked.
WAITAKI
After rain lashed the Waitaki district yesterday afternoon, heavy winds picked up in the evening. 
Waitaki Mayor Gary Kircher said he was not aware of any major damage to the district's infrastructure, but he understood crews were out this morning assessing the impact of yesterday's storm.
"My only comment would be it's pleasing to see that the water is receding as quickly as it came up in the main places, but more rain coming is going to be a bit of a challenge. We'll keep watching it and get things fixed up as best as possible."
Waitaki District Council assets group manager Neil Jorgensen said the district's infrastructure had "come through pretty well with a relatively small amount of road closures compared to previous events".
"There will be some scouring on the roads and the Alps 2 Ocean [cycle trail] will need some repair work. And there will be quite a lot of general clean up as a result of the rain and wind."
It was still early and a full assessment would only be possible after more of yesterday's flood water had receded.
Across the district, there were 16 roads closed and 20 under caution, he said.
"There are quite a few wee slips that need to be cleaned up."
Last night in Oamaru, the Oamaru Volunteer Fire Brigade was called out first for a downed tree at Bushy Beach Rd about 8pm, then at 10.20pm firefighters were called after reports of a lamppost on fire.
A Fire and Emergency New Zealand spokesman said when crews arrived they found power lines smouldering.
"There was nothing for them to do except wait for the local power authority to arrive," he said.
Network Waitaki network operations team leader Brad Fleming said there were no major disruptions yesterday.
"We had a few outages here and there but they were all resolved in quick time," he said. 
Dunedin's wettest day for November
MetService meteorologist Andrew James said yesterday was Dunedin's wettest day in a November which already had had three times the average rainfall.
So far this month, 150.8mm of rain had been recorded at Dunedin Airport and at 7pm last night 59.2mm had fallen in just 24 hours.
More rain was forecast for the rest of the week, but nothing like the amount which fell yesterday, he said. There was also concern a heavy tide last night could exacerbate flooding.
Elsewhere, more than 50mm of rain fell in Roxburgh, about 34mm in Oamaru and 30mm to 40mm in parts of the Clutha District.
Police went house to house in the Taieri settlement of Henley yesterday afternoon to advise residents to evacuate.
Last night, the Taieri River had not yet breached the floodbanks at the settlement, but some houses were flooded by hill runoff.
Fenz spokesman Daryl Ball said the service fielded 84 callouts in Otago and Southland yesterday, including from a man who became stuck in his car in floodwater near Kaitangata.
Most of the callouts were to individual homes where flooded basements or backyards had flooded.
At least one house was flooded in Ranfurly, and the town's bowl-like rugby field was full of water.
Flooding on the runway caused the cancellation of a flight out of Dunedin Airport and meant an Air New Zealand flight from Auckland had to be diverted to Christchurch.
KiwiRail said it closed the line south of Dunedin as parts were submerged, and would inspect it for damage once the water receded.
In Mosgiel, Gordon Rd was inundated by surface flooding which led to it being closed for a short time and retailers scrambled to find sandbags to protect their stores from the rising water.
Mosgiel shop owner Julie Choie, of Choies Takeaway, said she blocked her door with sandbags and water did not get inside.
''We've had a lot of support from the community, people are calling up to make sure we're OK,'' Ms Choie said.
Ravensbourne was another area badly hit by the weather. Several dips on SH88 had deep surface flooding, forcing heavy traffic to grind almost to a standstill.
A large slip just past Maia closed the highway's northbound lane, forcing firefighters to act as impromptu traffic controllers.
In Ravensbourne itself, the front of one property, opposite Moller Park, had turned into a waterfall. At Deborah Bay slips had blocked Aramoana Rd which was down to one lane last night.
At 5.15pm the Otago Regional Council opened the Riverside spillway gates on the Taieri River at Outram to divert flooding into a ponding area, which is part of the Taieri Flood Protection Scheme.
Sandbags were made available for concerned residents in Mosgiel and South Dunedin.
Dunedin Mayor Dave Cull said it was his understanding the Portobello Rd pumping station did not get to full capacity yesterday afternoon.
Residents in Ravensbourne and some areas of the Taieri experienced power cuts.
Heavy rain infiltrating the wastewater system forced up manhole covers in many areas, so all available bypasses were opened to alleviate pressure.
The Otago Regional Council said the Taieri River was expected to reach a ''second peak'' today or tomorrow, after first peaking yesterday afternoon. Levels would staying high for potentially up to a week.
Otago Regional Council science, hazards and engineering director Dr Gavin Palmer said river levels continued to be monitored around Otago.
The council would also monitor the Mill Creek pump station, which came under pressure during the July 2017 floods and the council had ''brought in extra materials to stabilise it if needed, although we don't anticipate any issues'', Dr Palmer said.
The flood protection scheme was ''operating as expected''.
In other areas of Otago, Loganburn Dam in the Maniototo was spilling over and the regional council was monitoring flows from Paerau and Waipiata.
Staff worked during the night to keep an eye on river levels in Lower Clutha, Dunedin, Taieri and North Otago.
Dunedin's rubbish and recycling collection will go ahead as usual today and areas missed yesterday will be collected if roads are open.
The city council recommended people stay out of waterways and not to collect shellfish for 48 hours after wastewater overflow to the Silverstream in Mosgiel and minor overflows to other waterways, including Otago Harbour.