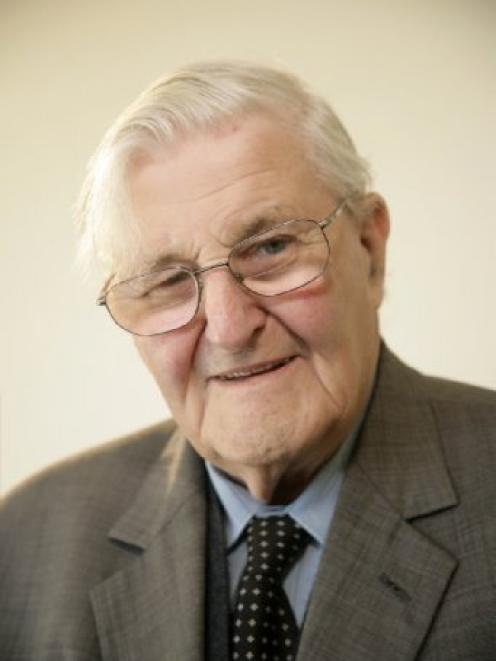 A man is due to appear in court on Friday charged in connection with the crash that claimed the life of South Canterbury Finance founder Allan Hubbard.
Oamaru police yesterday announced, after a five-month investigation, that a 40-year-old man had been charged with careless driving causing the death of Mr Hubbard (83) and careless driving causing injury to Mr Hubbard's wife, Jean (82).
Police yesterday identified the man charged as being from South Otago, but later confirmed it was the man who was driving the other vehicle involved in the collision.
That man was Andy Earl, of Richmond, but living in South Otago.
He has been summonsed to appear in Dunedin District Court on Friday.
Oamaru Sergeant Jason McCoy said the charges were laid after a thorough and robust investigation.
"As the case is now before the court, police are unable to provide any further details about the crash investigation," he said.
The investigation had been subject to peer review, prosecution review and had been reviewed by police management.
The crash happened on State Highway 1, at Hilderthorpe, about 8km north of Oamaru, about 1pm on September 2.
Mrs Hubbard was driving their hatchback south when there was a head-on collision with a four-wheel-drive utility and trailer being driven north by Mr Earl.
Mr Earl could not be contacted yesterday.
At the time Mr Earl, a self-employed plasterer and tiler, said he could not remember anything about the collision.
Mrs Hubbard also said she could not remember the crash.
In the days after the crash, Mr Earl's wife Janelle said he had been in Otago for a week and was returning to Nelson early.
She said he had no memory of the collision but called her from the scene to let her know what had happened.
Mr Earl spent about an hour after the crash at Oamaru Hospital and was discharged. He later criticised it for lack of treatment. He was admitted to Nelson Hospital two days later and diagnosed with a broken sternum.
He later said he was having "flashbacks" of the crash and could remember lying on the road trying to breathe.
He said a witness about 150m behind the crash had assured him he had nothing to worry about and Mrs Hubbard had apologised to him while at Oamaru Hospital.
At the time of the crash, Mr Hubbard's company, Aorangi Securities, was being investigated by the Serious Fraud Office. Aorangi Securities was placed in statutory management in June 2010, owing investors up to $100 million. The Serious Fraud Office laid 50 charges against Mr Hubbard under the Crimes Act, but those were dropped shortly after his death.
Mrs Hubbard was also removed from statutory management.
The police announcement of charges over the crash emerged on the day a case against five people connected with South Canterbury Finance returned to Timaru District Court. Each denies 21 charges in connection with allegedly fraudulent transactions of about $1.7 billion.