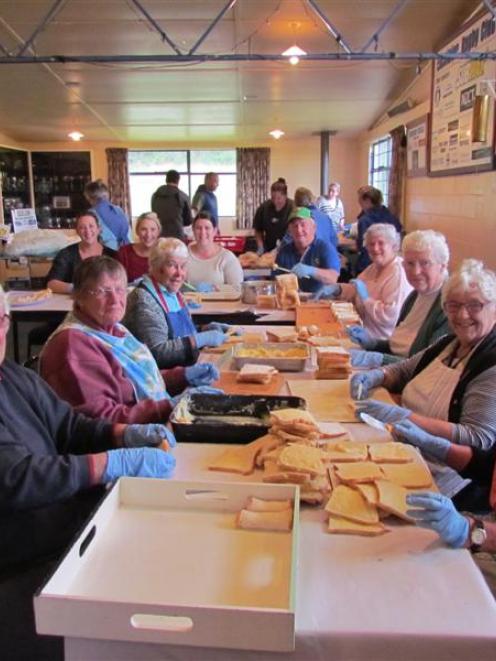 About 210kg of cheese, 890 loaves of bread, secret ingredients and almost nine hours' work later, about 80 volunteers had made the 18,000 cheese rolls the Excelsior Sports Clubs needed to meet this year's orders.
The Oamaru-based clubs never believed they were going to receive that many orders - 1500 dozen.
Usually, they had orders for about 600 dozen a year, although stalwart Herb Tonkin, who has been involved with the cheese rolls since 1978, did recall one other year when 1900 dozen were ordered.
When volunteers started rolling the rolls about 9.30am on Saturday, they had a 1400 dozen target. During Saturday, 100 dozen late orders came in.
First-time organiser of the production line Vanessa Pearce also did not expect orders for 1500 dozen: ''I was completely blown away.''
The venture is expected to raise about $3500 for the Excelsior rugby, netball, squash, cricket and petanque clubs.
Mr Tonkin said Excelsior Sports Clubs did the cheese rolls one year, and its pentanque club the next.
There were made from ''a secret recipe'' that was developed by Mr Tonkin and four others over the early years.
When asked why Excelsior's cheese rolls were so popular, he said: ''The recipe.''
All that he would reveal was that cheese and bread, both white and brown depending on the orders, was involved.
''I think we got in first before the others and they've always been popular.
''People like to have them stored up to have in winter with a bit of soup,'' was Mrs Pearce's reason for the high number.
Volunteers were rostered on for two-hour cheese roll-making sessions, although some were doing more than one.
On Friday, about half of more than 80 batches of mix were made for the early start, and the rest on Saturday.
Once completed, the bags were then divided into the individual orders and put straight into chillers.