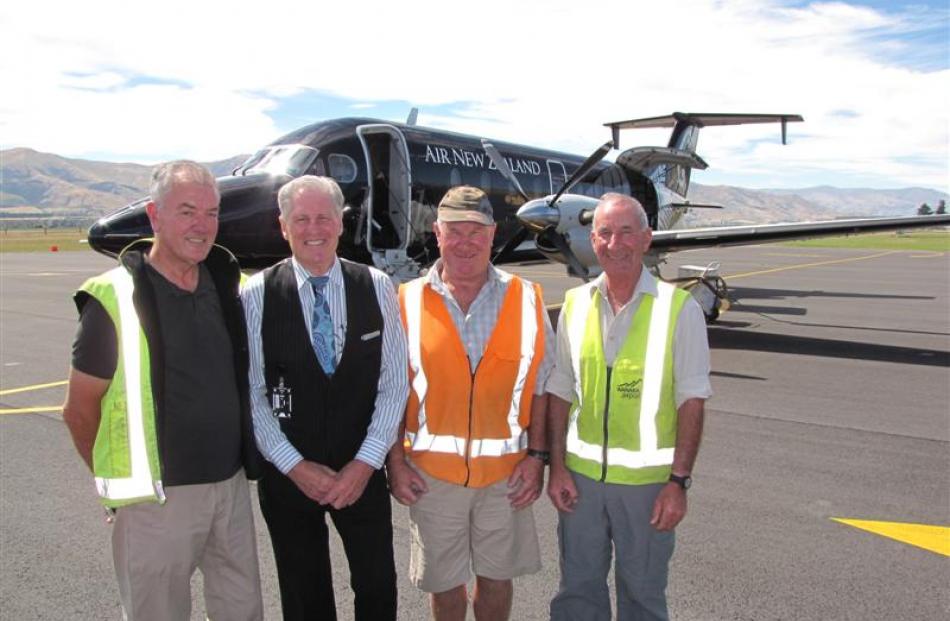 ''Goodbye, good luck, and hopefully you'll return another day.''
Those were the words Wanaka Airport manager Ralph Fegan radioed to the pilot of one of Eagle Air's Beech 1900D aircraft as it left the resort's runway for the last time yesterday, nine years after the scheduled service first flew into town. Air New Zealand subsidiary Eagle Air announced in November it was suspending its daily Christchurch-Wanaka flights from January 30 because the service was struggling economically.
The launch of the service, on March 19, 2004, had been a great occasion at the airport, with a red carpet rolled out and a huge crowd on hand to welcome in the first Eagle Air flight to Wanaka, Mr Fegan recalled.
Yesterday, there was little fanfare, other than a few staff photographs on the tarmac, a friendly handshake between the pilots and ground crew and the aircraft being escorted on to the runway by Mr Fegan in the airport's Subaru fire truck.
In 2004, Mr Fegan was on the Lake Wanaka Tourism board and the owner of the Wanaka Connexions bus company, which provided figures to Air New Zealand on the number of visitors to the region. He said the service's suspension was ''pretty gutting''.
''A lot of us all bent over backwards to help make it happen.''
Timing, cost and unreliability of the flights had been factors in its demise, he believed. Wanaka-based Eagle Air ground part-time staff Stuart Schranz, George Smyth and Archie Gordon have been made redundant. All three have other part-time jobs, but agreed yesterday was a ''sad time''. They would all miss ''the interaction with the public - it's fantastic'', Mr Schranz said.
For Mr Smyth, who has been an Eagle Air ground agent at Wanaka ''from day one'' and a long-serving Qantas staff member before that, yesterday was particularly poignant.
''It's a sad day.
''But we're not tear-jerkers. We're old enough men to realise we've had a great career here and we're going to miss it; we're going to miss the people.''
Even Eagle Air captain James Coppard admitted he would miss the regular flights in and out of the resort, which he described as a ''nice little scenic spot''.
While there were just nine people on each of the Christchurch-Wanaka 19-seater flights yesterday, numbers had been ''huge'' in the past few weeks, which was typical for this time of year, Mr Smyth said.
The airport is managed by the Queenstown Airport Corporation, and chief executive Scott Paterson said there were no replacement scheduled airline services in the pipeline for Wanaka.
An approach had been made by one party but ''it wouldn't work - they wanted huge subsidies'', Mr Paterson said.
Those on site yesterday remained optimistic.
''One door shuts and another one opens,'' Mr Gordon said.
''Somebody else will happen along one of these days,'' Mr Fegan agreed.