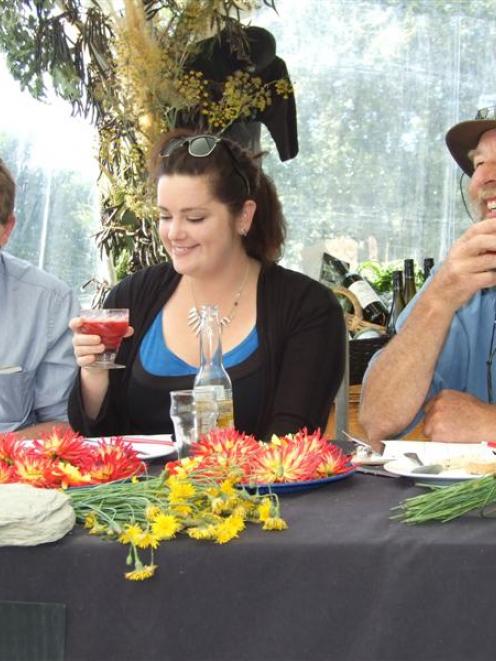 Forget commercially made vinegar dressing; how about home-made dandelion dressing? And forget bargain wine - how about stinging nettle margarita or elderflower ''Champagne''?
These were some of the 33 creations in the third Glenorchy Local Wild Food Challenge, held at the Glenorchy Cafe on Saturday.
Three judges tasted creations ranging from a dish of edible flowers to a meal of shredded hare decorated with the ears and tail of the animal.
Challenge organiser Bill Manson said the judges did well to pace themselves as they nibbled on the unusual foods on offer.
The leftovers were offered to spectators, who rushed to try dishes such as huhu-crumbed magpie with hare back steak.
The stinging nettle margarita disappeared quickly and if there had been a people's choice award, it surely would have won that.
After sampling all the creations, the judges, Glenorchy farmer/hunter/cook Mark Hasselman, winner of last year's challenge Rachel Holmes-Libbis and Dunedin chef Greg Piner, declared a sweet platter the winner.
The dessert was the work of Glenorchy's Gill Tacchi and Christine Benjamin and was titled Jewels in the Wild.
It consisted of elderflower mousse topped with rosehip gel, homemade marshmallow flavoured with wild raspberry, blackberry and elderflower and Glenorchy Rd honey tuilles, raspberry, rosehip and elderflower jellies and goatsbeard lichen brittle sprinkles.
Wild stag and dark ale homebrew chilli made by Scot Stephen Campbell, of Paradise, was second and third went to Glenorchy's Kate Scott for her wild venison and pork sausages on a stick with wild juniper and rowanberry jelly.
For his huhu, magpie, hare back creation, Paul Fraser earned the wildest ingredient award for the second year running.
Cynara Miller took away best effort for Diamond Lake Canadian goose pate with Tapanui venison meat loaf and Malcolm Hubberd (11), of Glenorchy, earned the children's prize for his wild rabbit and ginger curry pies with wild apple sauce.
The number of entries topped last year's 28 and Mr Manson said it was encouraging to see the quality of the dishes using ingredients that were often part of the ''everyday lives'' of the participants.