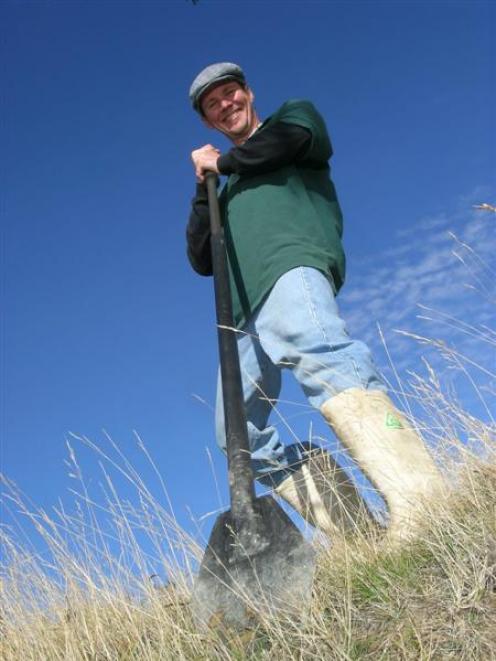 T. J. Irvin's "Slammer" does not look like the most modern piece of gardening equipment ever invented by man.
And it is also true it looks familiar, like a self-adapted crowbar your grandfather might have had in his shed.
In fact, his granddad, a West Virginian whisky distiller of Scots descent, did have one in his shed.
Fifteen years ago, in true bootlegging style, T. J. (short for Timothy James) decided to adapt his granddad's tool to suit his own circumstances.
He was digging bamboo in Seattle and, suffering the side effects of an earlier skiing accident in which he had broken his back, was not finding bamboo removal easy on the body.
"Everyone said that it was not possible [to remove bamboo]. That led to the invention of the Slammer," Mr Irvin recalled.
But he proved bamboo could be removed and his resulting business was successful and grew various related offshoots, he said.
Then, about nine years ago, Mr Irvin had a spectacularly bad day, at the end of which he ran himself over with his own truck.
He decided to re-evaluate his life and came to Wanaka, where he lived in a $500 caravan at the Glendhu Bay camping ground.
Mr Irvin was raised and educated in India and the Philippines and not the United States, as many assume from his accent.
But he is now officially a New Zealand resident and lives in Lake Hawea with his wife Rachel, a music teacher.
They love their simple, uncomplicated lifestyle and are looking forward to the birth of their first child later this year.
As for the Slammer, Mr Irvin will exhibit the tool at the Fieldays at Mystery Creek, near Hamilton, on June 9 to 13.
The old crowbar-style object his grandfather used to split wood was basically an axe head welded to a hollow pipe, with a solid bar slide that came down and hit the axe head.
At the time he developed the Slammer, Mr Irvin had no idea anybody else had come up with similar ideas, though he knows that now.
But since first moving to Wanaka, he has had several prototypes made by Templeton Engineering, at Albert Town.
He has sold many to people working in construction, roading and gardening work, and has put a trademark on the tool's name.
The usefulness of the Slammer really came home to him while planting an olive tree on a Mt Barker property, where the soil is very rocky.
He exhibited the tool for the first time at the Upper Clutha A and P Show in March and was encouraged by a customer to display it in the innovators section at Mystery Creek.
The Hamilton Fieldays are reportedly the largest agricultural event in the southern hemisphere.
Templeton Engineering has made him another 10 tools to take with him to Fieldays and Mr Irvin is thrilled former international weightlifting champion and New Zealand gold-medallist, Precious McKenzie, has agreed to attend and help promote it.
Mr McKenzie is a member of the New Zealand Safety Council and the Slammer is favoured as it makes digging holes easier and helps reduce back and knee strain.
Mr Irvin hopes the Slammer will become a viable local business.
"My goal is to export these tools from Albert Town. Most people say `You are nuts; you should go and have these made in China'. But I really believe in supporting industry in the place you live."
Mr Irvin is philosophical about his venture.
"I have come to learn that invention is not what I do. It is interpreting what nature does and . . . incorporating it into solutions for problems."