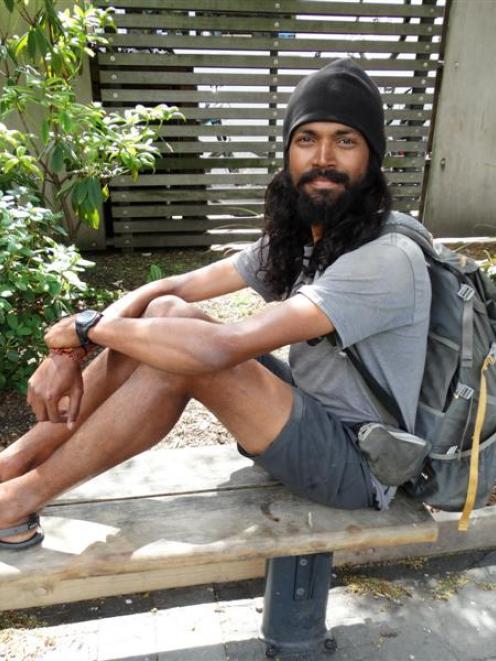 Naresh Kumar is not your average backpacker. Indeed the 32-year-old has had a long journey to Queenstown.
Originally from India, Mr Kumar arrived in New Zealand because of a film he saw almost 13 years ago.
''Growing up in Chennai, we didn't always get to see the big blockbuster movies, but in 2001 I saw the first Lord of the Rings movie. I was like, what is this place? That day I told my parents one day I would live in New Zealand.''
Mr Kumar is taking the 3000km Te Araroa trail from Cape Reinga to Bluff, arriving in Queenstown this week.
A barefoot or minimalist runner, he is completing the walk in sandals.
He said the South Island was more challenging than the North due to the tough terrain.
But he was getting there partly through the hospitality of New Zealanders, some of whom he affectionately described as his ''trail angels''.
''Sometimes it is the thought of a warm bed, a shower and a beer that gets you through.''
At one stage he feared for his life when crossing the Waipapa River in Northland.
He scribbled a note to his parents in case he did not survive the crossing: ''Mum, Dad, I'm sorry, I love you''.
Highlights along the route?
Obviously some of the Lord of the Rings locations, including Mt Sunday and Mt Ngauruhoe, or Mt Doom as it is better known to Lord of the Rings fans.
Mr Kumar had worked hard to get to this point and said his parents, Manohari and Nagabhushan, had made sacrifices.
''We had a very poor background. Their focus for us was always our education ... and now I can bring money to the table in terms of looking after my family.''
After getting a government-funded scholarship to Madras University, he was recruited to Dell, followed by Cerner Corporation, as a software engineer in the United States.
After a few years there, his family described him as ''crazy'' when he told them he wanted to move to New Zealand.
''They didn't understand my passion. But I had goosebumps when I got off the plane and landed in New Zealand.''
Mr Kumar aims to complete the trail before December 11, the day the new Hobbit film opens.
- Louise Scott