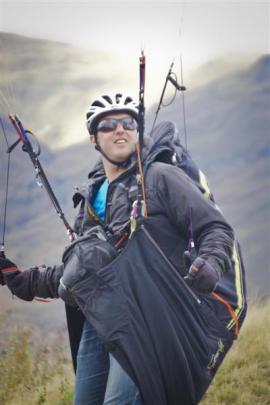 In three months' time, Glenorchy paraglider Nick Neynens, supported by Queenstown's Louis Tapper, will become the first New Zealander to test his skills against the best in the world in what has been described as the ''Olympics of paragliding'', the Red Bull X-Alps. Tracey Roxburgh reports.

Glenorchy paraglider Nick Neynens is determined to prove Kiwis can fly with the best in the world.
Neynens (33) will this year become the first New Zealander to compete in the Red Bull X-Alps, a race covering six countries and Europe's highest mountains through vol biv, a combination of cross-country flying, hiking and camping.
His supporter, Queenstown paraglider Louis Tapper, will help with logistics, strategy, food, medical support and weather forecasting, carrying supplies to wherever Neynens stops at night.
The pair will meet in Europe in June to familiarise themselves with the route.
Neynens, ''having fun'' in India doing a 400km vol biv across the foothills of the Himalayas, told the Otago Daily Times by email while he had always been a fan of X-Alps, he ''thought it might be more fun to watch than to participate in''.
But in March last year, he competed in X-Berg, a small amateur event based on X-Alps in the Drakensberg mountains in South Africa and was hooked.
''I had such a wild adventure that I straight away applied for X-Pyr, held a few months later in the Pyrenees.''
He then applied to be part of X-Alps and was accepted.
Aside from being the first, and only, New Zealander to compete, he is one of two paragliders from the southern hemisphere who will race - the other being Stephan Kruger from South Africa.
Neynens, an engineer in Australia, had taken a year off work to focus on vol biv in his home country.
''X-Alps requires an all-rounder pilot - you need to be able to take off and land anywhere and fly in all kinds of conditions.
''[It's] all about being creative with your options and having the experience to make the right judgements - and doing it all fast.
''I have spent a lot of time, particularly in New Zealand, dealing with the mix of elation and frustration this sport provides.
''I've always been pushing to explore a little further and the open format of the X-Alps captures this spirit.''
Neynens said because it was an amateur event there was ''no financial justification for participation'', so he had taken advantage of his time off work to ''fulfil another dream''.
The race, held every two years, begins in July with a one-day prologue where the 33 international competitors will be put through their paces in a hike and fly race around Fuschl am See, mountains made famous by The Sound of Music.
The first three athletes will be given a five-minute headstart in the main race, which begins on July 5, and receive a night pass, allowing them to hike through the night to get an advantage over rivals.
At all other times, athletes will race from 5.30am until 10.30pm, at which point they must stop.
The X-Alps begins in Salzburg, Austria, and ends on a pontoon in the Mediterranean sea at Monaco - a straight line distance of 1038km.
Tapper described the event as ''the Olympics of paragliding'', in which an average of just 12% of the athletes will reach the finish line.
''It's really hard. Just finishing, or just making the top 10, is a huge achievement.''
The 2013 winner, Switzerland's Chrigel Maurer, set a record, completing the course in six days, 23 hours and 40 minutes.
Tapper said this year's race would be ''significantly harder'' and could take as long as two weeks to finish.
If weather conditions were unfavourable, Neynens would be forced to ''keep walking'' and climb over mountain passes such as the Matterhorn.
There would be 10 ''turnpoints'' throughout the course.
Race mastermind Hannes Arch said this year's race would be ''significantly more demanding'' than the 2013 course, which placed a ''far higher demand'' on tactical skills.
''In many places, there is not an obvious flight path to take and athletes must use all their skill to stay airborne.
''If you're forced to land, the consequences can be critical.''