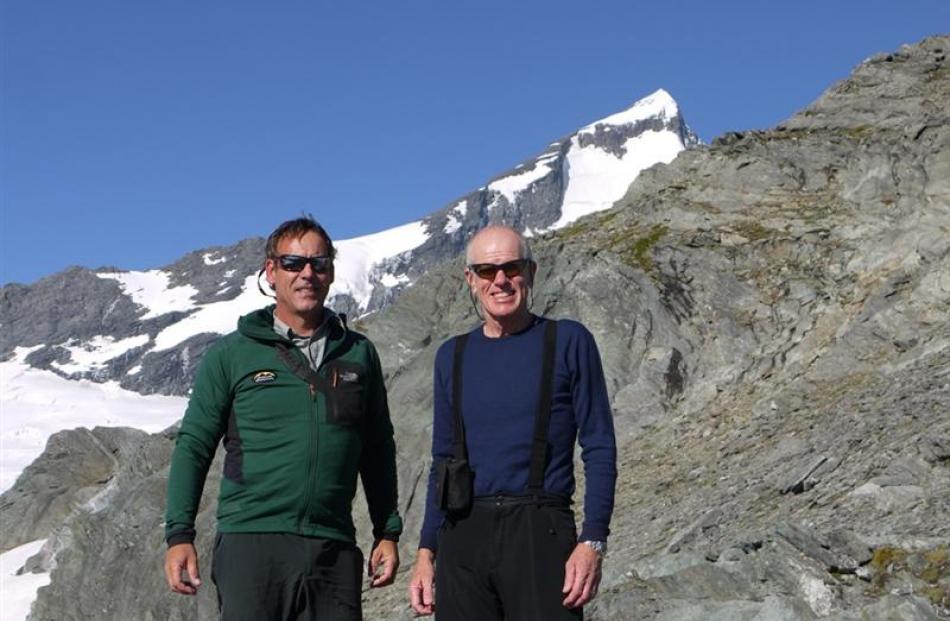 Their fathers climbed together in the Himalayas more than 60 years ago, and this week, history was repeated when Peter Hillary and Guy Cotter climbed Mt Aspiring together - in the space of just a few hours.
Mr Hillary was in Wanaka to speak at last night's official opening of the Brownston St premises for Adventure Consultants, a guiding company owned by Mr Cotter which recently relocated from its former McDougall St site.
Mr Cotter's father, Ed Cotter, of Christchurch, was on a 1951 expedition to Mukut Parbat in the Indian Himalayan region with Mr Hillary's father Sir Edmund Hillary, along with George Lowe and Earl Riddiford. It was one of the first New Zealand expeditions to the Himalayas and resulted in Sir Edmund's selection for the successful 1953 British Everest expedition.
Early on Wednesday, the next generation of the two climbing families left Colin Todd Hut at the base of the northwest ridge of Mt Aspiring, reaching the summit just four hours later.
''I'm sure it's not a record but it's a pretty good time for us. It often takes anywhere from six to 10 hours to climb,'' Mr Cotter said.
Both men have climbed Mt Aspiring numerous times, but never together, although they did both work on a film project there about 15 years ago. It had been about 30 years since Mr Hillary last stood on the summit.
Mr Cotter said the pair had enjoyed a ''wonderful'' ascent together.
''We had really good conditions and we managed to climb and talk all the way up to the top and all the way back down.
''It was nice to actually get out on to the mountains rather than just catch up at a social occasion.''
Mr Hillary agreed the expedition was a ''textbook climb'' and said it was great to get the opportunity to go climbing with Mr Cotter, as their fathers had before them.
''Those family connections are just fantastic.''
Peter Hillary also has a special connection with Adventure Consultants as he reached the summit of Mt Everest in 1990 on his fourth attempt, on an expedition led by New Zealanders Rob Hall and Gary Ball, who later became the founders of Adventure Consultants, and who also reached the top. It was the first New Zealand-led and organised expedition to succeed on Mt Everest.