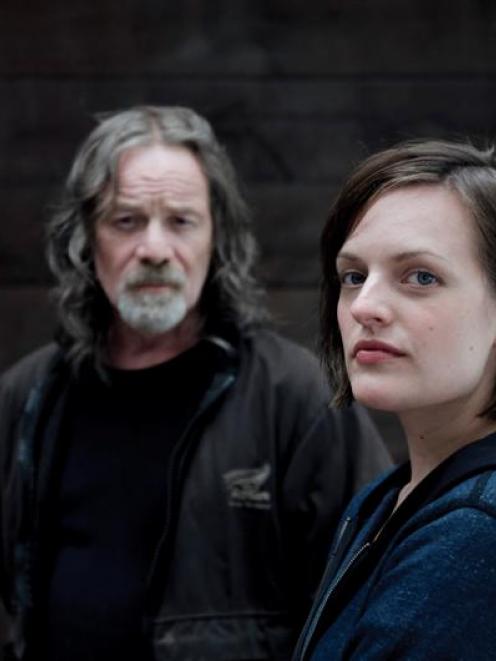 Fans of world-class drama will think all their birthdays have come at once when they watch
Top of the Lake
and Queenstown viewers will get a special thrill, for this is the Wakatipu, but not as we normally experience it.
The Queenstown Times was invited this week to be one of the first in New Zealand to see the multimillion-dollar, transtasman television series, which was Academy Award-winning Jane Campion's first project in her homeland since The Piano 20 years ago.
As if to bring art and life full circle, Top of the Lake reunites Campion with Holly Hunter, who won an Oscar for her role in The Piano.
Hunter seemed to have channelled Campion in her performance as women's refuge guru ''G.J.'' with the use of a long grey-haired wig, piercing stares and enigmatic non sequiturs.
''How are your knees,'' G.J. asks already troubled Detective Robin Givens (Elizabeth Moss).
''You're going to come down hard.''
In a shade of Prime Suspect, determined Givens is brought in to help Detective Al Parker (David Wenham, Public Enemies, The Lord of The Rings) and the laid back boys' club known as ''Southern Lakes police'' when a 12-year-old girl (impressive newcomer Jacqueline Joe) is found five months pregnant, then vanishes.
American critics were quick to pigeon-hole Top of the Lake with Twin Peaks, but that was misleading. This series is firmly rooted in the reality of now, but how powerful to see the mountains and lakes of the Wakatipu used ominously, rather than the usual picture-postcard manner.
The wintry wilderness was cast as an all-seeing silent witness to the tiny intrusions of humanity, a keeper of ancient myths and secrets, and conjured the dread so artfully created across the Tasman in Walkabout and Picnic at Hanging Rock.
The refuge, a ring of shipping containers, was unmistakably shot at Moke Lake.
Other recognisable Wakatipu landmarks in the first two episodes included the Glenorchy township and hotel, the Glenorchy-Paradise Rd Bridge, the Glenorchy-Queenstown Rd, Marine Pde, lower Beach St, inside Avanti restaurant, the Post Office Precinct and the entrance to Queenstown Primary School, while Routeburn, Greenstone and Lake Sylvan were name-checked.
There were flashes of earthy Antipodean humour laced throughout. Tip of the grubby baseball cap to Robyn Malcolm as ''Anita from Syracuse'', who became a disciple of G. J.'s to get over a rather unique relationship.
Top of the Lake earned rave reviews at its premieres at the Sundance and Berlin film festivals earlier this year. New Zealanders can watch it when it begins on UKTV on March 25.
The series is set to run on BBC 2 during the northern hemisphere summer and, if the success of Scandinavian crime dramas in the UK is an indication, austerity Britain will be in the mood for something as dark, gritty and compelling as this.