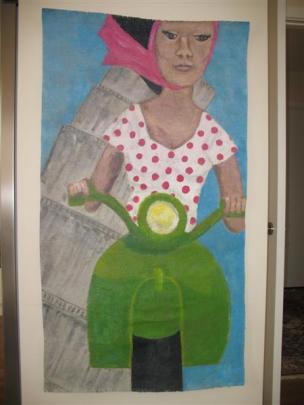 A Dunedin artist who has spent many hours inside a computed tomography (CT) scanner is one of those who has given work for this weekend's CT scanner appeal auction in Wanaka.
Three simultaneous auctions and garage sales will be held this Saturday, in Wanaka, Cromwell and Alexandra, with the aim of raising $150,000 for the CT scanner suite at Dunstan Hospital.
The painting of an Italian girl on a scooter, called Free Spirit, is part of Waverley painter Lauren Bremner's music and travel collection.
Like all her work since her first stroke in 2000, it isthe product of her left hand.
Mrs Bremner had been a ticket-writer, signwriter and kitchen designer.
But after her stroke, when she ''lost everything'', at the age of 40, motor skill problems meant changing hands.
The mother of three grown sons, Mrs Bremner has had to retrain herself to speak, and she continues to suffer more minor strokes.
Unable to continue working as a commercial signwriter, Mrs Bremner began taking art lessons and now has a dozenor so paintings ready foran exhibition in Dunedin in July.
However, proceeds from the girl on the scooter - an experiment with acrylic on hessian cloth rather than canvas - will go towards the CT appeal.
Almost 50 paintings have been given for the art auction and garage sale in Frederick St, Wanaka, on Saturday.
Paintings, along with kitchenware, gym equipment, barbecues, furniture, toys and cars have been given in the other centres, too.
Alexandra Rotary Club president Brian Fitzgerald said two new cars, and one second-hand car, with ''generously conservative reserves'', were among the big-ticket items for auction in Alexandra.
New cars will also be offered in Cromwell and Wanaka.
He said people had been handing in items for about a month but Rotary and Lions club members and been working ''pretty much continuously'' from mid-December to organise and advertise.
Friends of Dunstan Hospital and Dunstan Lions Club member Mary Boyd said she was ''absolutely impressed'' with the amount of stuff that had been given to the appeal.
She said the Central Otago community had always been behind their hospital. It had raised money to buy all the equipment at the hospital in Clyde.
The appeal was first mooted at a combined Rotary club meeting last year. They then joined forces with the Lions clubs for the first time to support the community fundraiser, Mr Fitzgerald said.
Altering and fitting out the rooms of the scanner suite was expected to cost about $250,000 and Friends of Dunstan Hospital had already agreed to underwrite $150,000 of that. Any extra money would go towards maintenance, Mrs Boyd said.
A $1 million grant from the Central Lakes Trust, announced in November, enabled the hospital to purchase the scanner after several years worth of lobbying.
Over the past year there was debate about the best location for a scanner to serve the wider Central Otago and Queenstown Lakes districts.
The Southern District Health Board decided in June to install two scanners - one at Dunstan and one at Lakes District Hospital in Frankton