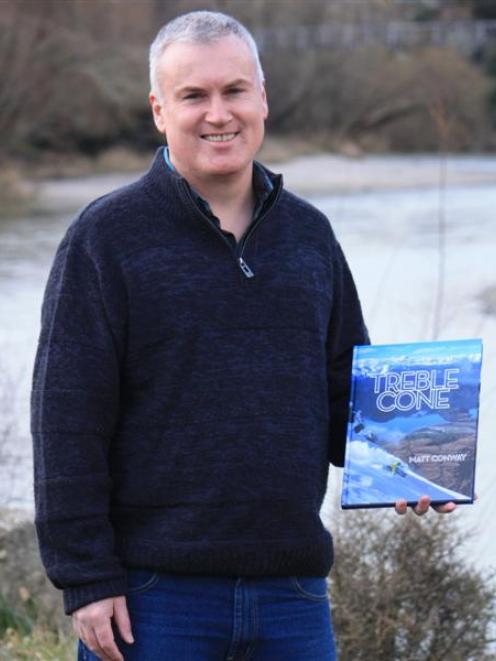 It will seem hard for dedicated Treble Cone skiers and snowboarders to imagine, but the author of the official history of their favourite field - a book called
Treble Cone
, launched in Wanaka on Saturday night - never once set his foot in a ski-binding during the eight years he spent researching and writing.
Matt Conway, of Alexandra, has a simple explanation.
Although his two sons love the sport, skiing has just never been his thing.
''No balance. But I'd love to do all that stuff - surf, ski.''
However, the one-time Christchurch newspaper and television journalist found writing the history a very ''positive'' experience.
''Having done crime and mayhem for a lot of years, you see people at some pretty tough times.
''And this was something that people were just universally keen to talk about.
''Their eyes just sparkled when they talked about it.
''They were just really into it, and it was nice to be around that.''
Mr Conway became involved with the book after moving from Christchurch to Alexandra with wife Sonia Keogh.
He had no job and freelance journalism was ''fairly skinny in this part of the world'' .
However, he knew someone who knew Treble Cone chairman Nat Craig.
And Mr Craig believed it was ''high time'' the stories were gathered together of how Treble Cone founders such as Murray Raffills, Sir Tim Wallis and Ken Harliwich ''conjured up this skifield out of nothing, really''.
Mr Conway started with the names of six people considered worth talking to about the field's 47-year history but ended up recording 35 interviews and transcribing them on to ''hundreds and hundreds'' of pages.
He searched the National, Alexander Turnbull, Wanaka and Hocken libraries for every ''tinpot little ski magazine'' that had ever been published.
He was also lent maps, photographs and documents.
''It's the classic trap.
''You've got all this material, and a lot of it's great.
''And then you have got to try and wrestle it on to the page.''
Mr Conway said the taped interviews provided some ''fairly colourful anecdotes''.
''I like to run quotes long and strong.
''So I decided that was something I wanted to do.
''I wanted to kind of get out of the way of the people who lived the history and let them tell the story.''
Mr Conway said without having a newspaper deadline to work to, he felt obliged to attempt to reconcile every conflicting piece of information.
''You might have three different versions of the same event.''
That required a ''hell of a lot of fact-checking'' and going back to people to test their memory of events.
And, Mr Conway said he knew Treble Cone locals could get quite fired up about issues to do with the field.
''It very quickly became apparent that if I get this wrong I'm going to hear about it.
''That kind of added to the pressure of it as well.''
In May there was a brief controversy over the book, with Mr Craig accusing majority shareholder John Darby of trying to stop its distribution.
However, Mr Conway said that never affected him directly.
''I never had a call from any of the current Treble Cone administration to express any concerns or talk about any problems.
''I really just kept my head down and it just played out as it did.
''And thankfully it's been released, and is selling well, I gather.''
To answer the question about why he thinks people ski, Mr Conway quotes the recollection of 1970s rope tow operator Noel Wilson, skiing in a whiteout.
''You just felt like you were floating.
''We were up to our armpits in it.
''Over the bluffs and hollows.
''You didn't know where they were; couldn't see them.
''It was just a wonderful feeling.
''You felt like a bird just floating down the bloody field.
''Amazing.''
And fresh from reading the quote to the ODT, Mr Conway admitted he would love to experience skiing ''sometime''.