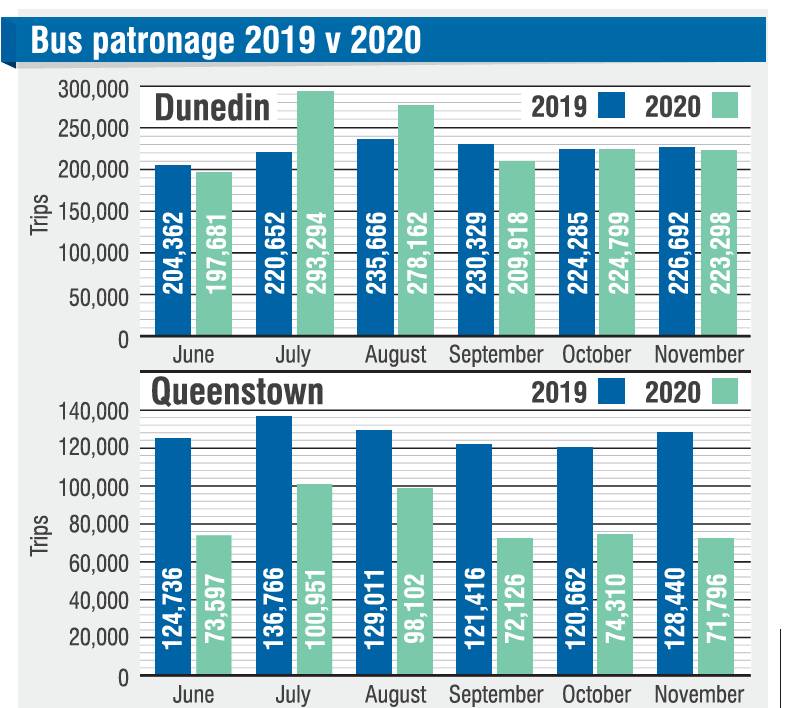 The number of people using buses in Queenstown has been significantly affected by the Covid-19 pandemic.
Bus patronage in the tourist town was down 44% last month compared with November last year.
Otago Regional Council transport manager Garry Maloney said the resort had borne the brunt of the pandemic's "lingering" effects, but that was expected.
Bus use had been consistently down this year due to there being fewer visitors and seasonal workers in the area who would usually take the bus.
"We expected to see lingering impacts of the pandemic on public transport for some time," he said.
But it was nice to see bus usage in Dunedin was comparable to last year, and had been up compared with the beginning of the year before the pandemic hit, he said.
Since September, when the Bee Card ticketing system was introduced, a $2 flat fare had been trialled and regional councillors would consider the rate again before the end of the year.
Last month, patronage was down by just 1% compared with last November and bus use had increased about 3% on longer routes around the city, Mr Maloney said.
A breakdown of patronage on those longer routes could not be provided yesterday as the data had not been compiled.
"We expect differences in trends compared to last year because of changes such as the lack of cruise ships visiting Port Chalmers."
Patronage was highest during July and August in the "sweet spot" when buses were free and the country moved to Alert Level 1.
As for the new Bee Card, uptake had continued to be good. There were 35,564 registered cards in Otago as at Tuesday, he said.