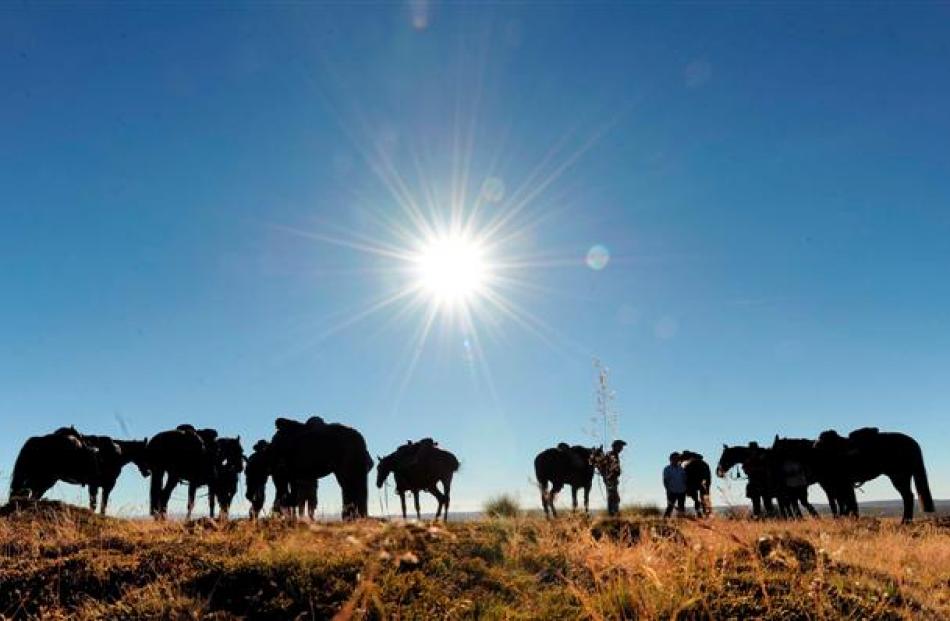 When Alan ''Dobbie'' Dobson turned 60, his birthday present from his wife could not have been more perfect.
She booked him on the Otago Goldfields Heritage Trust's cavalcade, an event that traverses the Otago hinterland, where he grew up.
Taking part in the cavalcade had been on his ''bucket list'' and, to make the occasion even more special, the Nelson schoolteacher was joined by his younger sister Rosie Dobson, who has lived in Australia for the past 38 years. Their early years were spent on a farm, Lynbrook at the Styx, in the Maniototo, where their parents Bob and Irelle Dobson farmed. Their grandfather, Charlie Hore, established Stonehenge Station.
Riding through the Otago countryside was nostalgic for the duo, who hired horses to take part on Bill Butler's trail.
They used to ride a pony to school in the Maniototo, sometimes with three of the six-strong siblings on board.
While Ms Dobson regularly rode horses at home in Grafton, New South Wales, Mr Dobson only rarely rode these days. Part of his preparation involved setting up his grandfather's military saddle on a pallet and sitting on it for an hour each night, armed with a cup of coffee.
The pair had been camping in woolsheds and enjoyed a shower courtesy of a hose.
''The rougher the better,'' Mr Dobson said.
Ms Dobson said she had not had much sleep - ''a shearing shed doesn't complement sleep'' - but some early morning starts did not bother her.
The pair were up at 4am yesterday, with breakfast at 5am and riding out from Avenal Station, near Millers Flat, at 6am.
It was ''absolutely beautiful'' watching the sun come up, while the horses were settled and walking nicely in the early morning air, she said.
The pair enjoyed riding through spectacular tussock country on to the top of the Lammerlaw Range before dropping down to Beaumont for the night.
Mr Dobson described the trip as ''everything he thought it would be and more''. He was looking forward to showing his photographs to staff and pupils when he returned to school.
He was farewelled with a special morning tea at school, complete with a saddle in the staffroom, and he told his pupils that he was not going to shave when he returned from the week-long odyssey.
His sister said it had been a great way to meet people who shared a common bond - a love of horses and the countryside.
Despite having told friends in Australia that she could be riding through snow, she was enjoying what she described as ''Aussie weather''.
The cavalcade finishes in Tapanui on Saturday.