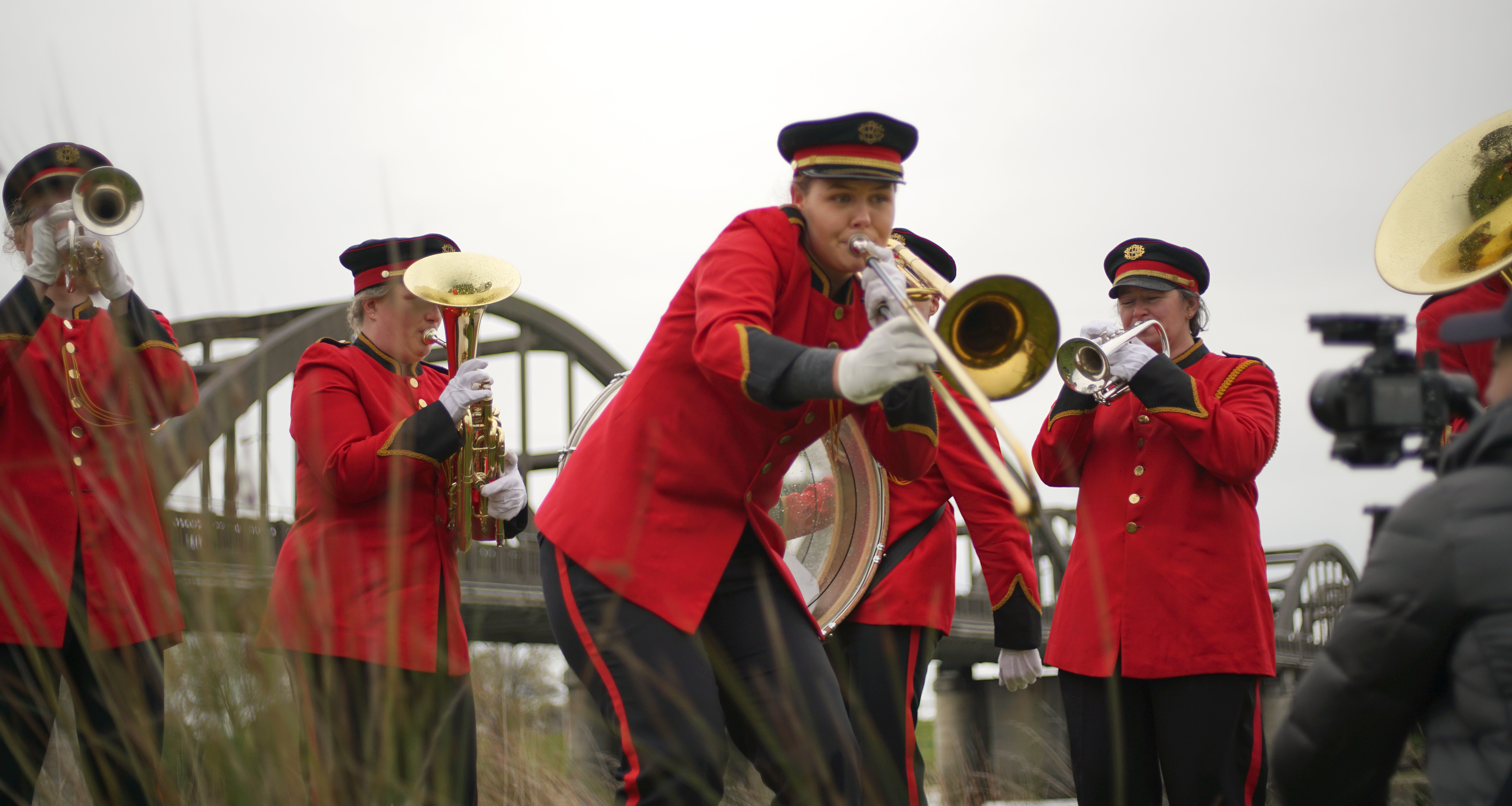 Few people have to dodge sheep poo and heavy rain for their 15 minutes of fame.
But trombonist Susie Grigg had to brave just those conditions, when she and five fellow members of Dunedin band St Kilda Brass were summoned to South Otago for a mysterious video on Sunday.
The assignment turned out to be a segment shoot for Air New Zealand's next air safety video, filmed by Balclutha Bridge  and expected to be released on its fleet of jets later this year.
The second-year University of Otago biomedical science student's part in the project began when she answered a text from her band leader requesting a "hands-up" for something "a bit out of the ordinary".
Despite the twin ordeals of sheep droppings and inclement weather,  the three hours of filming had been "great fun and educational", she said.
"The crew had a continual loop of the music that would be playing on the eventual video, and guided us as to what they were after visually. But our enthusiasm was real and it was fascinating to see how much effort goes into what might in the end be only a few seconds of film."
Air NZ general manager global brand and content marketing Jodi Williams praised the band members for their commitment.
"Our film crew loved working with St Kilda Brass; they were keen to be involved and brought heaps of energy to the shoot."
The final video would feature a cast of more than 500 "local talents" like the band. 
"This is the largest cast in Air New Zealand safety video history, and will feature locations in Dunedin, Hokitika, Balclutha and South Auckland; and groups including the Rewa Allstars dance crew, Mosgiel Brass Band and curlers from Dunedin and Naseby."
Aside from their more practical daily pre-flight broadcasts, Air NZ's safety videos have  become a worldwide internet sensation, tallying more than 157 million views online.