The improvement in engagement and attendance of elected members at Invercargill City Council meetings shows a commitment to sorting out its issues, a councillor says.
In light of the council's governance review and the problems highlighted by the revealing Thomson report, the Otago Daily Times asked how many required meetings elected members had attended since the election in 2019.
The majority of returning elected members were now on track to have a better attendance this term than the previous one.
The percentage rates were taken over different timeframes — the first covers the period from October 26, 2016, to April 9, 2019, and the second from October 29, 2019, to June 30, 2021.
Crs Graham Lewis, Darren Ludlow and Marcus Lush had a 100% attendance rate, having not missed any of the council or committee meetings this term.
While Cr Lewis had attended 85 and Cr Ludlow 94 of the required meetings since the inaugural meeting, Cr Lush has attended all 19 meetings since his election in February.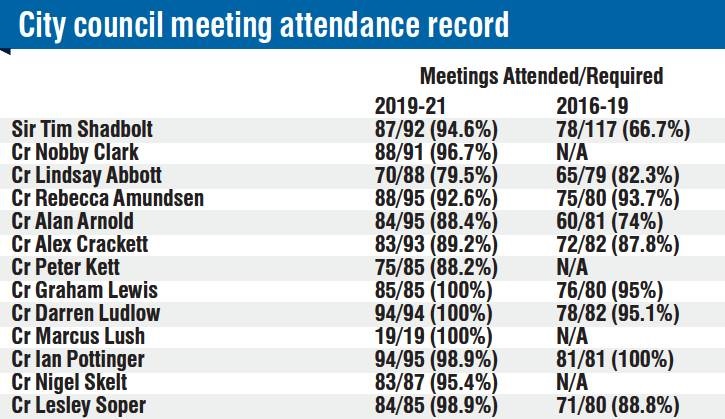 Cr Ludlow said he was pleased to be in the 100% attendance rate group.
"I guess the way we restructured our meetings, the number of the committees from four to two, helped tremendously on that but it also reflects the whole Thomson report and the Department of Internal Affairs oversight of everything has just meant that from a personal perspective I felt I just needed to commit everything that I had."
Cr Lewis agreed.
"I think councillors need to do what they can, but it can be difficult due to other jobs and appointments.
"All the councillors try to make the effort but the unseen thing is the amount of work we have in preparations for these meetings.
"We are having more workshops than previously [before the review] and it's good all councillors are acknowledging the importance of that. It shows our commitment to sort the issues out."
Cr Lush said he did not know it was a metric that was measured.
He looked forward to each meeting and said it was important to turn up and the public expected it.
"I'm incredibly passionate about it and take it seriously," he said.
At the other end of the scale, Cr Lindsay Abbott had been at 70 of 88 meetings he was required to attend.
When approached by the ODT, he said he had been away through illness but did not want to comment on the matter further as it was personal. He said he had attended some meetings via Zoom.
Mayor Sir Tim Shadbolt has had an increase in attendance compared with last term.
From October 26, 2016, to April 2, 2019, he attended 78 of the 117 council meetings, but since the 2019 election, he attended 87 of the 92 required public council and committees meeting, a rate improvement from 66.6% to 94.5%.
The findings of the city council's six-month review will be presented at a meeting next month.