A 24-year-old man arrested today after a manhunt in Southland is due to appear in court tomorrow facing a raft of charges.
Hori Gemmell was arrested at a property in Te Tipua, near Mataura, this afternoon after allegedly stealing a police car and two police pistols in a drama-filled night in Gore this week.
Police spoke to media in Gore this afternoon about the arrest and said one police-issued Glock pistol had been recovered, but a second Glock remained outstanding.
In an update this evening police said the man was due to appear in Invercargill District Court tomorrow morning facing two counts of reckless driving, two of theft, two of unlawful possession of a pistol and one of unlawfully taking a motor vehicle.
Southern District commander Superintendent Paul Basham told media this afternoon a police dog was involved in the arrest, and "one or two people" were injured.
Two people were in custody, from different addresses.
"We are also speaking to a number of other people who our enquiries have led us to," Supt Basham said.
Police had worked "relentlessly" to resolve the situation, he said.
Anyone tempted to hide or dispose of the firearm should understand police would have a "relentless focus" on them, he said.
No police staff were injured and no shots were fired during the arrest. 
Police were not in a position to say whether any shots had been fired from the recovered Glock.
Earlier today armed offenders squad members and a police dog squad swarmed on a Gore house. 
Police established armed cordons on several intersections around a property in Surrey St.
RNZ reported police vehicles also converged on Crewe St at the intersection with George St.
There was also a heavy police presence at Diamond Peak Road, as police attended several other properties in Gore.
Police earlier blocked access to Invercargill Airport and searched a plane on the tarmac as part of the search for wanted man Gemmell, but a sighting of him on the plane turned out to be a false alarm.
A police spokeswoman said they conducted the search after a report of a possible sighting of Gemmell on an outbound plane about 8am.
"Police conducted a search of the plane and determined [Gemmell] was not on the flight."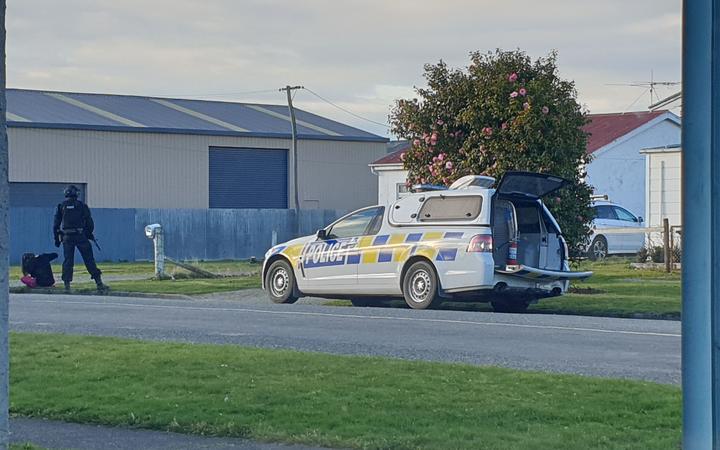 Police blocked the entrance to the airport as part of the search and had left by about 8.40am.
An airport spokesperson has confirmed the sighting of Gemmell was a false alarm.
A staff member thought they saw Gemmell leading to the police response.
This comes after Gemmell appears to have posted about the manhunt on social media last night saying: "stay safe Deep South don't believe everything in the media".
The post made on Gemmell's Facebook page also included a line saying: "Media realise tomorrow".
A police spokesperson said police were "aware of social media posts and are looking into these".
"Police encourage Hori Gemmell to come forward and make contact with us, so we can resolve this situation quickly and safely. "
Police yesterday named Gemmell as their suspect, 
The incident sparked a massive manhunt involving raids on properties across Eastern Southland yesterday.
Gemmell was wanted on a warrant to arrest issued by the Gore District Court earlier this month but police would not be drawn on why the warrant was issued.
They have signalled a review of procedures after the incident.
Officers from across the South and specialist national police from further afield converged on the normally sleepy farm service town yesterday to join in the hunt.
Details about Gemmell remain scant but he is known to have links to Mataura and Gore, though police said he was a resident of the Clutha district.
It is understood he was a pupil at Tokanui School as a child and later spent time in Hastings in the North Island before returning to the South.
He claims on social media to be a shearer but contacts in the Clutha and Southland shearing community said they had never heard of the man.
His mother is believed to still live in the Gore or Riversdale area.
Police Deputy Commissioner John Tims said procedures might need to change as a result of the incident but he did not believe training was a problem.
Southern District commander Southern District Commander Superintendent Paul Basham said at a press conference in Gore yesterday the officers had left their keys in the car when they went to pursue the suspect, who then doubled back and stole their car.
He allegedly later abandoned the patrol car, taking loaded police-issue Glock pistols, using the keys to access a lock box.
Supt Basham said the officers involved were now at home and he did not want to pre-judge their actions during the "dynamic situation," and was quick to defend the pair.
"Overall, they did a pretty good job."
However, Supt Basham said the protocol was for officers to take the keys with them when they left the vehicle.
Another vehicle believed to have been driven by the suspect was seen by police in Wyndham, after he had stolen and abandoned the patrol car.
Officers including members of the armed offenders squad, assisted by a helicopter with thermal search gear, pursued the vehicle around rural Southland.
Police said the incident would be referred to the Independent Police Conduct Authority.
Officers in Invercargill and Eastern Southland had been ordered to remain armed.
 - Gore police (03)203-9300, Crimestoppers 0800555-111.
With RNZ