A state of emergency has been declared for Southland as heavy rain brings extensive flooding to the region.
Southland Civil Defence Emergency Management Group chair Neville Cook made the declaration for the Southland region, including Gore, at 2.20pm.
It follows yesterday's declaration for the Fiordland Community Board Area. 
Emergency Management Southland controller Angus McKay said the declaration helped provide a coordinated response to the emergency, which is being managed from the Invercargill emergency centre.
The move comes after Milford Sound received about as much rain in 24 hours as Christchurch gets in a year.
Parts of Fiordland received 550mm of rain in 24 hours, the MetService says.
"In 24 hours Milford Sound recorded approximately as much rain as Christchurch gets in an entire year," MetService meteorologist Lewis Ferris said.
MetService is forecasting widespread heavy rain to continue affecting the South Island throughout today  with the Red Warning for Westland expiring at 4pm.
It earlier lifted its warning for Fiordland, saying heavy rain was easing in the area.
Meanwhile a plan to evacuate 195 tourists from Milford has been put off until tomorrow.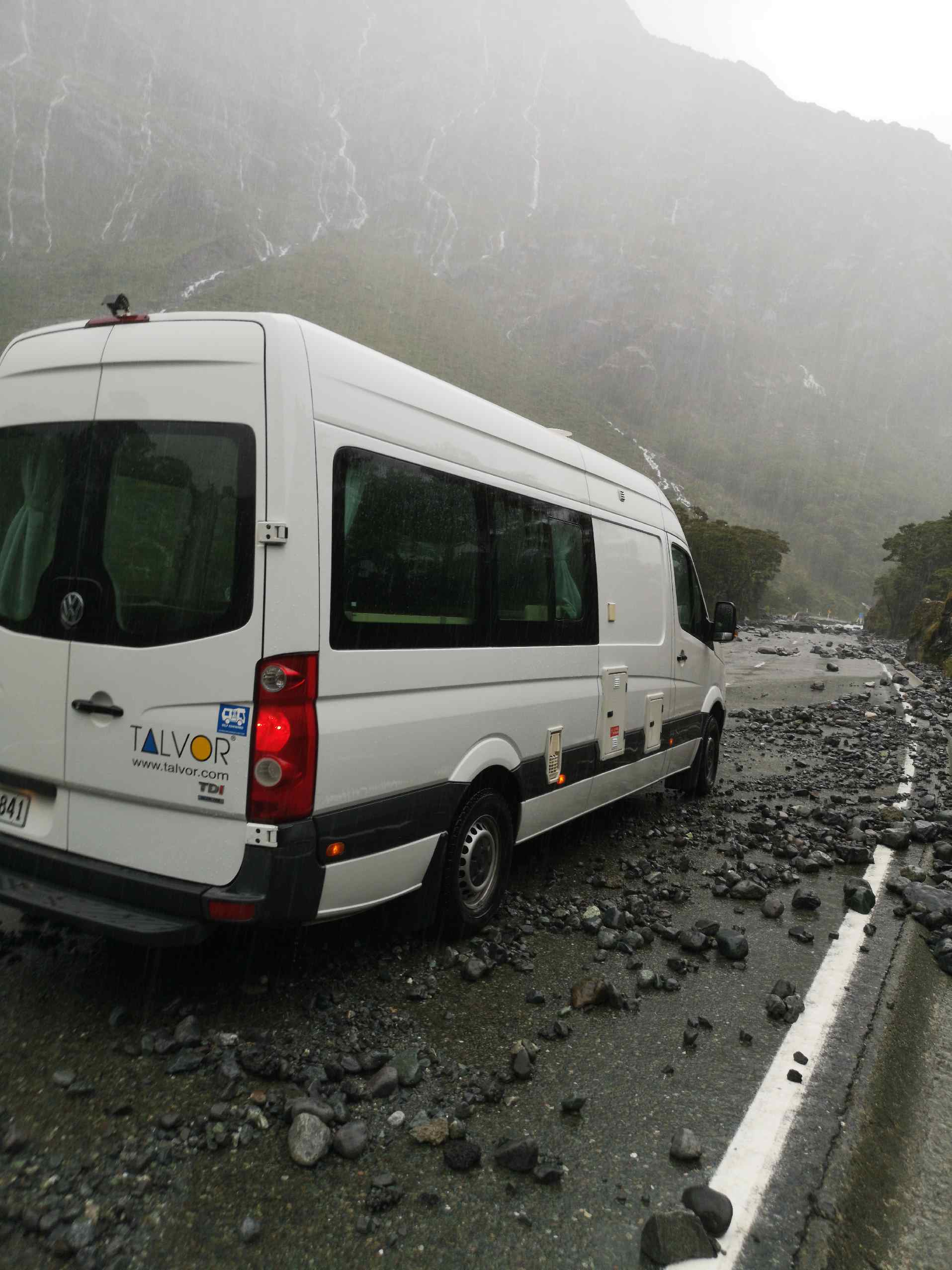 About 70 "stragglers'', located on the Te Anau side of the Homer Tunnel (State Highway 94), were evacuated by helicopter although nearly 500, including tourists and about 300 staff, remained trapped in Milford Sound last night.
People were advised to keep up to date with the latest forecasts in case any changes were made.
Meanwhile, evacuations of walking tracks in Fiordland got under way this morning after a landslide hit a hut with 31 people inside on the Routeburn Track overnight.
The slip hit the Howden Hut at 1.30am, leaving two people with minor injuries.
Both were treated by a doctor on site.
Mr McKay this afternoon said the evacuation was almost complete, with more than 50 people now registered at the Welfare Centre in Te Anau and more being transported on buses from the helicopter landing point at Knobs Flat.
He said most of the huts had been cleared including Island Lake Hut, Hidden Falls Hut, Gunns Camp, Big Bay Pike Hut and Pike Lodge.
Tourists who are in Milford remain at the Mitre Peak Lodge where they are comfortable and in good spirits.
Mr McKay said weather conditions did not look promising for helicopter access to Milford today, and flooding and road closures across Southland meant it was better for the tourists to remain in Milford where they were safe and being cared for.
"Road closures mean we cannot get the tourists to any of their destinations if we bring them out of Milford and there are accommodation challenges due to other travellers being caught up in the effects of the flooding which is becoming widespread across Southland.
"Forecasts look better for tomorrow, so we will continue with plans to safely evacuate everybody in the morning."
Emergency Management Otago acting director Michele Poole earlier said Otago Civil Defence was providing support to Southland Emergency Management in two areas.
While Otago had not declared a state of emergency, rising water levels in the Clutha District and the evacuation of trampers from huts in Fiordland were the focus of its monitoring and support.
She said some trampers had been helicoptered out to the Queenstown-Glenorchy area, some of whom had come off the Routeburn track.
"At the moment it's very much management and support."
She encouraged those travelling into Dunedin to be safe and careful while driving and to adhere to road closures and warnings. 
NZ Transport Agency journey manager Peter Brown said a small number of tourists were also taken by helicopter from Forks Bridge, about 1.5km from the Homer Tunnel, yesterday afternoon.
''There is extensive damage from Lake Gunn to the Homer Tunnel which will delay us opening this road quickly and there is still a section we haven't inspected due to bad weather preventing a flyover.''
A state of emergency was declared for Fiordland by Southland Mayor Gary Tong about 2pm yesterday to allow for a co-ordinated response to the flooding, caused by a combination of high tides and heavy rain.
Mr McKay said helicopters airlifted Hollyford Track hikers from two walking huts outside Milford last night.
Those trapped inside Milford were moved to higher ground throughout the day.
Although many took up residence at Mitre Peak Lodge, others remained safe on cruise ships in the dock, he said.
Ultimate Hikes New Zealand general manager Noel Saxon, who manages Mitre Peak Lodge, said those who had been relocated to the lodge were comfortable and dry.
''We don't have 400-odd beds but, if it came to it, we would make do and have enough room to accommodate everyone.''
Despite the threat of increased flooding in the coming days, response teams and businesses in the area were ''well equipped'' to deal with the conditions, he said.
''Milford's really used to this kind of thing. They have the road closed through winter quite a lot so they've got really good practices in place.
''They'll look after everybody and feed everybody and make sure they're warm.''
Tourism operators would be putting plans in place and ''as they can'', would fly out any tourists who urgently needed to get out of Fiordland.
An NZTA report said significant damage had been caused to the road and rainfall rates were 55mm an hour.
Milford Rd, between Cascade Creek and West Gate (State Highway 94), had also been closed after ''numerous'' slips from consistent rainfall.
An Air Milford spokeswoman said no flights would be sent out until weather conditions were deemed safe, which could be Wednesday ''at the earliest''.
In Dunedin, city council staff and contractors were preparing ahead of the rain, checking and clearing stormwater and wastewater infrastructure.
Residents were advised to check drains, gutters and grates were clear to handle a large downpour.
The Otago Regional Council's duty flood officer, Lauren Hunter, said Lakes Wanaka and Wakatipu were rising, but neither lake was expected to reach flood levels.
River flows were also rising as a result of the heavy and consistent rainfall.
''We are paying close attention to the Dart and Pomahaka Rivers in particular, which are above high flow thresholds.''