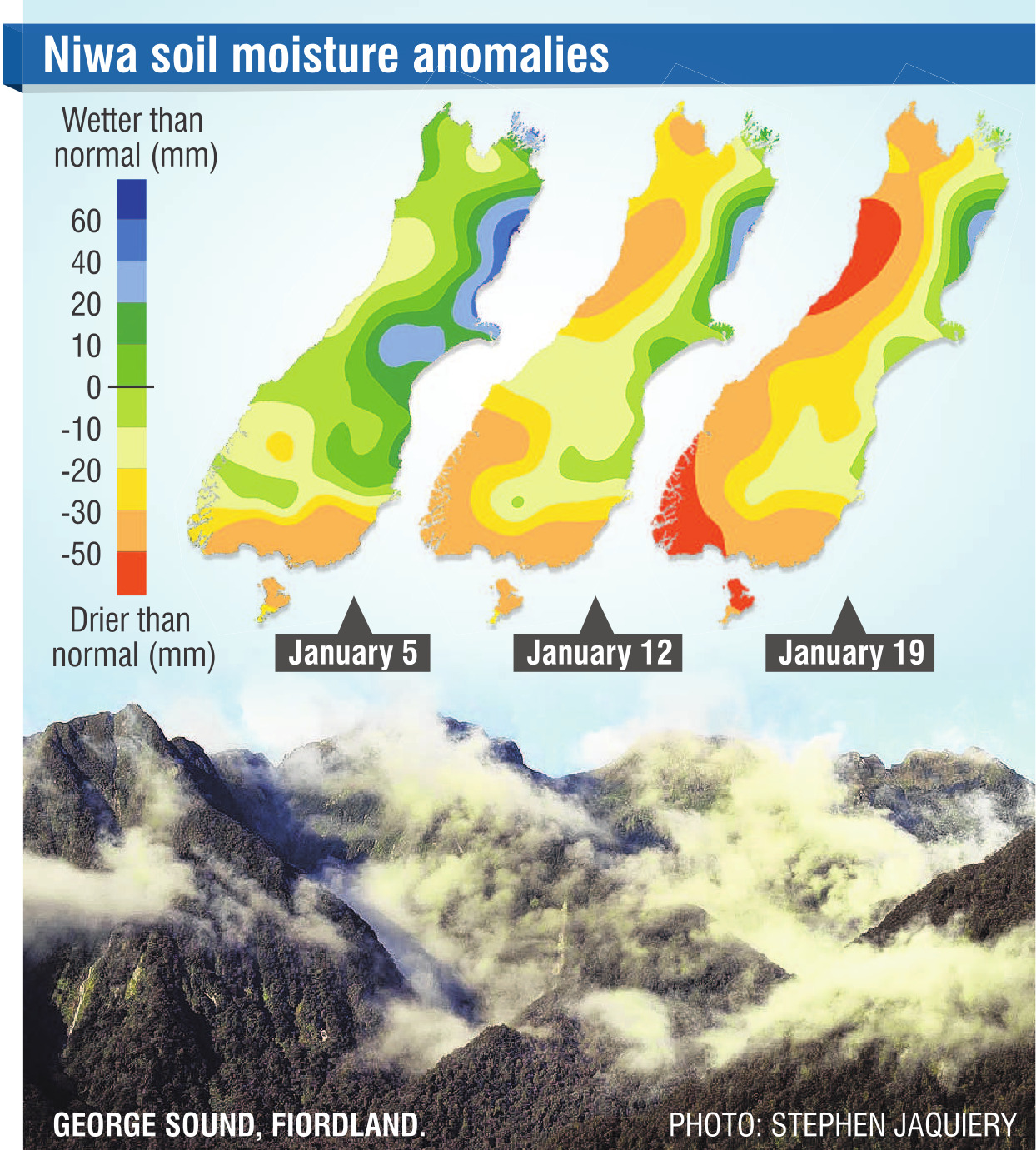 Niwa is warning of increasing fire risks in some of New Zealand's wettest areas as La Nina forces them to become unseasonably dry.
Soil moisture levels in Fiordland, western Southland and Stewart Island are at a "pretty substantial deficit" at present, and Niwa meteorologist Ben Noll said it was likely to get even drier over the coming weeks.
"Relative to the last few years, we're certainly on an uphill climb in terms of the dryness.
"We're certainly headed in that really dry direction if things don't turn around soon."
He said the dryness had spread quite quickly across Otago, Southland, Fiordland and Stewart Island over the past month because the weather had remained relatively settled, with few fronts bringing much needed rain to the regions.
"It's quite dry right now in Fiordland. The fire fuel risk may be a bit higher than we would normally see in that part of the country.
"There's a lot of bush in there and it is a highly-trafficked tourist spot, so anyone heading in there needs to be aware of the situation.
"You'd expect to be driving down the Milford Rd and seeing waterfalls all around you.
"Well, that's not how it's going right now."
The driest soils in the South Island for this time of the year, are located in the upper West Coast and Fiordland, while the wettest soils for this time of the year are found in far northern Canterbury.
Regions experiencing significant soil moisture deficits are deemed "hotspots". Persistent hotspot regions have the potential to develop into drought.
Mr Noll said the La Nina weather system over the country at present, had helped fuel the dryness.
"You have the national climate driver, La Nina, at the steering wheel.
"In the background, you also have climate change with higher temperatures, higher evaporation rates — that goes hand in hand with the potential for dryness and dryness starting earlier."
In the first five days of February, there was a "broad signal" around the country for a period of more unsettled weather, but it was still unknown where in New Zealand that weather would hit, he said.
"At the turn of the month, there's a chance that the area will get the much needed moisture, but I wouldn't go much further than that."