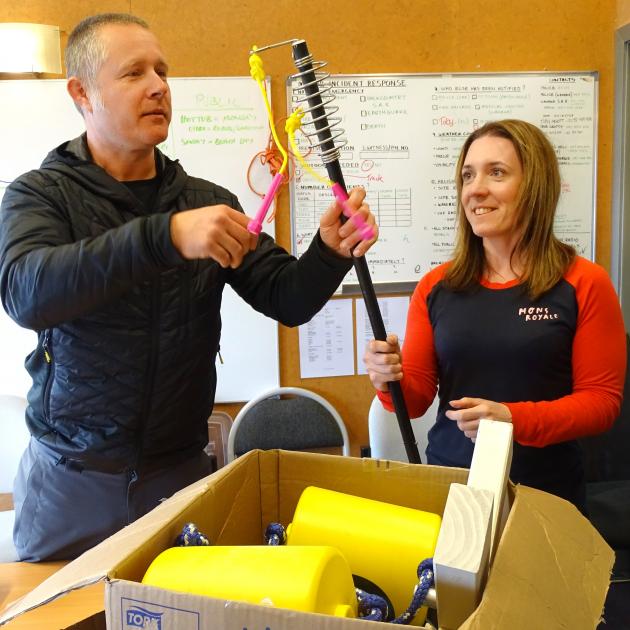 Complaints of missing gloves, stolen food and shredded windscreen wipers at Treble Cone skifield could soon be a thing of the past when a new kea playground is installed.
The familiar mountain parrot has been a regular visitor to Wanaka's closest skifield for many years, attracted primarily by the prospect of food scraps.
Treble Cone brand manager Richard Birkby said despite erecting signs and staff educating guests about the thieving habits of kea, the skifield still received regular complaints about kea knocking over mugs, flying off with trays of chips and destroying gloves.
Health and safety officer Jessica Griffin said the idea for the kea playground at Treble Cone skifield was prompted by the kea gyms in Nelson and at the Homer Tunnel and Manapouri power station at West Arm, established primarily to keep kea away from roads and damaging cars.
At Treble Cone "the objective was to give the kea challenges that weren't food related - something that entertained them".
Skifield staff made the frame but she thought it was a "great opportunity" to involve the community and approached Mt Aspiring College about making the "toys".
Spatial and produce design teacher Sarah Carltons said 26 pupils took on the task, and researched "what keas were interested in", before designing and making the toys from materials donated by Wanaka Wastebusters.
Ms Griffin and Mr Birkby this week unpacked the first box of toys to arrive and weather permitting the playground will be installed in the next few days.
Ms Griffin said Treble Cone had also started trapping to catch stoats, ferrets and feral cats along the access road.
"We are so lucky that we have this iconic alpine parrot at our skifield. I feel we have a duty as such to look after these little guys."
The skifield was working closely with Matukituki Trust project manager Paul Hellebrekers and Eco Tours' Chris Riley, who had traps on Tower's Ridge and eventually hoped to have a trap line up to the summit of Treble Cone.
Mr Riley has been skiing at Treble Cone for 36 years and said the numbers of kea had dropped dramatically over that time.
Stoats were one of the biggest predators of kea eggs and more and more of them were being found in the alpine areas, he said.