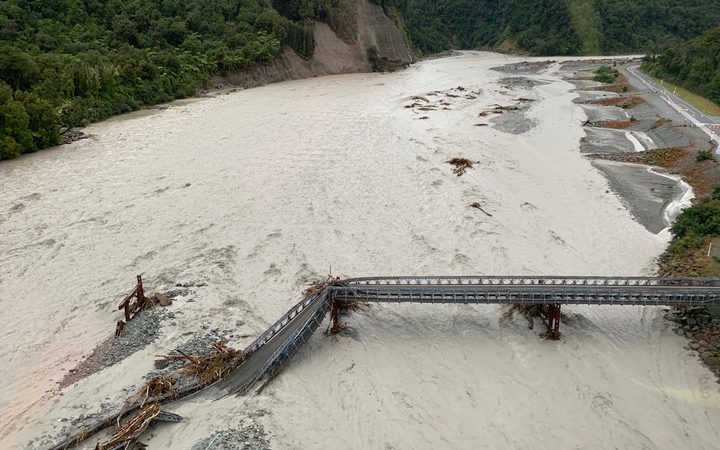 Heavy rain today has forced the closure of Haast Pass and delayed the planned reopening of a West Coast bridge destroyed by floods two weeks ago.
The NZ Transport Agency advised this evening that the Waiho bridge near Franz Josef would not be reopening on Friday as expected, and work would continue into the weekend.
Contractors and engineers have been contending with rising river levels today as heavy rain hit the area. 
The bridge, which is described as a lifeline for the district, was washed away in the floods two weeks ago.
Since then people have had to drive hundreds of extra kilometres to travel between Fox Glacier and Franz Josef, or use a helicopter taxi.
The bridge structure was successfully rolled across the bridge piers to the north bank this afternoon but it cannot be fastened permanently until the river drops and work can start from the river bed.
Meanwhile, a washout forced the closure of State Highway 6 (Haast Pass) between Makarora and Haast today. 
The NZTA advised of the washout, near Diana Falls, early this afternoon owing to surface flooding at an old slip site. It is expected to be clear by the morning.
The rain was continuing to lash Westland and the headwaters of the Otago lakes and rivers on Wednesday afternoon, and MetService warns the worst is still to come.
A wild front has pushed heavy rain and thunderstorms over the West Coast with parts of the region taking on over 100mm of rain in the last 24 hours.
Metservice meteorologist Claire Nickson said by midafternoon, Milford Airport had received 129mm, Franz Josef Glacier 108mm and Haast 50mm.
"The rainband is still hanging around that area now but it will begin to move north later on this evening, then it will ease for the Franz Josef area," she said.
"The warning goes out until 3am Thursday and that will ease for the southernmost areas first and then it will move north."
Tomorrow morning the rainband will have moved away from the West Coast of the South Island, Nickson said, and onto the North Island.
"That front will be bringing rain to most places really as it gradually makes its way over the North Island," she said.
"We don't have any watches or warnings out for any North Island areas but we're still expecting there'll be brief heavy rain and also a risk of thunderstorms."
Meanwhile, the rainband is likely to not impact Auckland until tomorrow afternoon but there is a chance of thunderstorms.
The rain could briefly become heavier with a chance of thunderstorms, Nickson said, with the possibility of wind gusts of up to 90km/h.
 - additional reporting RNZ/NZME