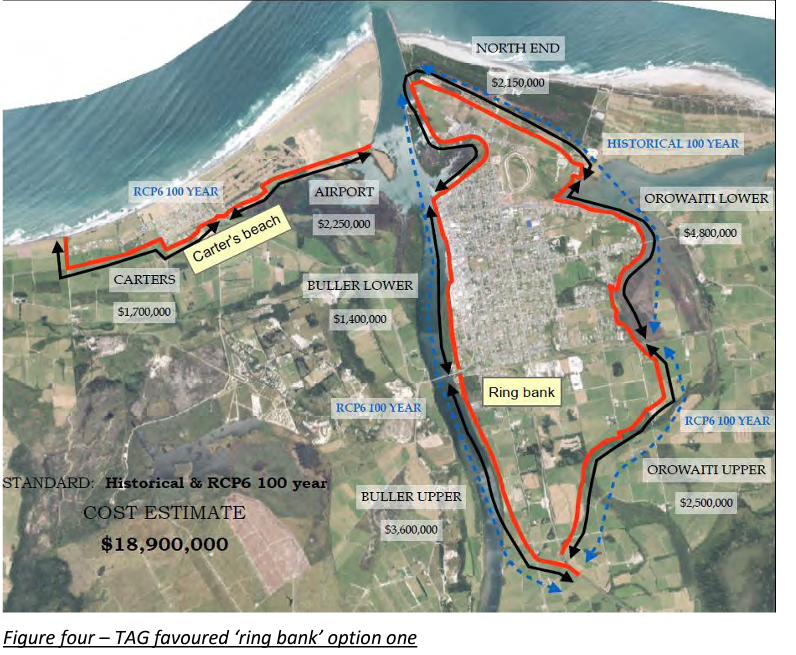 Preferred options to protect Westport with a new flood protection scheme to ring-fence the township will cost at least $26 million.
A report to the Westport Rating District Joint Committee Wednesday afternoon includes two recommended options costing $18.9 million and $16.9 million.
It's from a technical advisory group, to go to the West Coast Regional Council and Buller District Council, as they finalise their proposal to the Government.
The business case for Westport - regarded as a 'test case' for Government co-investment - is due to go to Cabinet this month.
Both options include an extensive floodbank skirting Carters Beach and the Westport Airport on the south side of the Buller River.
However the flood-prone Snodgrass Rd area just north of Westport on the Orowaiti Estuary is excluded altogether, and dredging the lower Buller River and creating a direct cut to the sea from the Orowaiti Estuary have been ruled out.
The advisory group report says both councils must now decide the preferred option as it was seen as "more political than technical".
It says consideration might be given to:
Option two at a little over $2 million cheaper
Number of houses and the protected area; option one being larger than option two
Risk of further urban intensification enabled by option one.
Option one extends the ring embankment area further inland from the current area of urban development than option two.
The report notes the flood risk due to Westport's geographic location, on an island wedged between the Buller and Orowaiti rivers.
The Buller River has the largest flood flow of all rivers in New Zealand.
The report notes the regional council has investigated flood mitigation scheme proposals for Westport since the mid-2010s.
It adopted an extensive stopbank and floodwall scheme estimated to cost $10.2 million in the 2021-31 long-term plan, as supported by 71% of Westport rating district submitters to the draft plan.
The councils requested co-investment from the Government following the severe flooding last July.
Local Government Minister Nanaia Mahuta has required that climate change and wider community 'resilience' be addressed within proposed flood mitigation measures.
Among eight recommendations for Wednesday's meeting is the business case for an estimated $26 million cost to be split 75:25 between the Government and councils.
- Brendon McMahon
Local democracy reporter
Public interest journalism funded through NZ On Air