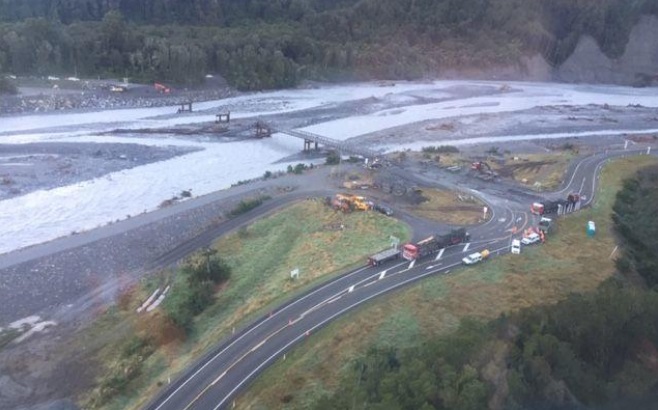 A washed-out bridge on the West Coast is expected to reopen in a week's time.
South Westland's Waiho River bailey bridge was washed away when torrential rain battered the coast last week, cutting off access between Fox Glacier and Franz Josef.
Without the bridge, people wanting to travel between the two towns must drive hundreds of extra kilometres or use a helicopter taxi.
NZ Transport Agency system manager Pete Connors said builders were working on the third span of the seven-span bailey bridge.
Teams on both sides of the river were working to reopen the bridge in time for the school holidays, he said.
The 170m new bridge was initially expected to be in place within seven to 10 days, but problems with site access and materials had slowed progress.
Waiho's compromised south side stopbank was also a concern ahead of the rain warning, Mr Connors said earlier.
"Because of the build-up of material on the river bed from the flood, it could take two to three months for this stopbank to be reinstated to its previous protection levels."
Since making the original plan for the bridge repairs, the NZTA has gathered more information, completed more planning and worked on design.
The new bridge will been upgraded to allow all vehicles categorised as Class 1. This now includes "heavier trucks, not just cars and buses as initially planned".