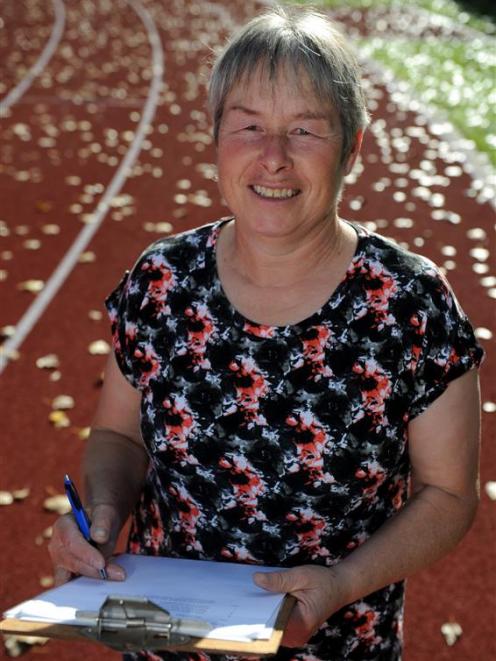 Athletics Otago remains in good shape but needs to work harder to maintain volunteer and membership numbers in the future, a departing administrator says.
Margaret Knox, who has been the association's administration officer for more than a decade, will retire from the role at the end of this month.
She has been employed by Athletics Otago since 2005 and worked for the association as a volunteer for a few years before that.
While the standard of athletes and coaches in the region was very high, the behind-the-scenes operation which kept the association going needed to be given careful attention, Knox said.
''We're very strong in many ways. We've got some very strong people involved in coaching and the organisation.
''But, like all sports, with weekend work and the centralisation of activities, it's quite difficult to get the fulltime commitment of volunteers and maintain membership.
''People like to be involved in events but not necessarily involved in clubs.
''It's an ongoing issue now - retaining, and retaining the young ones.
''Athletics is in good shape but it does have its issues, like any other sport.''
Knox joined Athletics Otago after making quite a mark on the sport at club level.
She joined the Caversham Harrier and Athletic Club as an athlete and administrator in 1968 and did not leave until 1994.
In that time, she helped organise the Dunedin Marathon and Ponydales Leith Cross-Country Relays for several years and established the Kings Road Relay for secondary school pupils in the late 1980s.
She also established the annual Time Buster race around the Octagon in Dunedin, which has been going since 1992.
In that race, runners are challenged to complete the 243m course before the Town Hall clock rings out 10 chimes.
Knox said the highlights of her time with Athletics Otago were all of the national championships held at the Caledonian Ground.
She was also proud she set up the Kids Cross-Country Series for primary and intermediate school pupils, now in its second year.
The role had been time-consuming and Knox was looking forward to spending more time with her three teenage children once she stepped down.
A new role of executive officer had been established and an appointment to that role was expected soon.
The association will hold its annual meeting on May 30 when a board will be voted in to replace the current management committee, made up of delegates from local clubs.