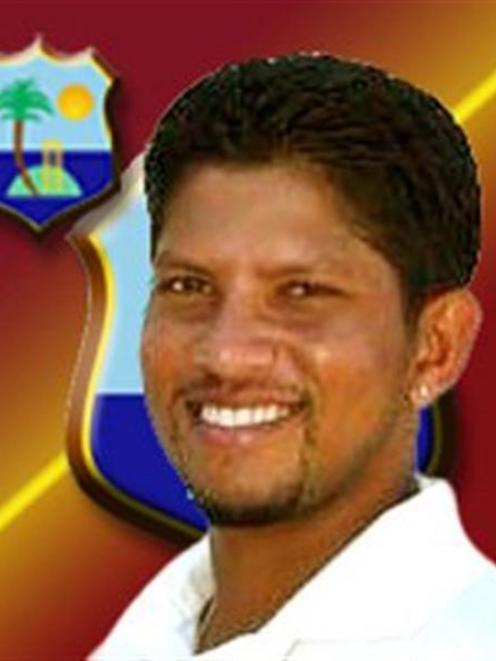 By anyone's standards, Ramnaresh Sarwan has been struggling on the tour of New Zealand.
The experienced West Indies top-order batsman was one of the players ex-pected to do well but he is yet to make any real impact.
He scored 158 against Auckland in a warm-up match but had a lean run during the test series, netting just 20 runs from three innings.
He missed out in the Boxing Day twenty/20 fixture but looked more like himself in the second twenty/20 match, scoring 53 off 36 balls.
It was the sort of innings which can get a class player such as Sarwan back on track and is, perhaps, an ominous warning for New Zealand.
"Obviously, I've been struggling in the test series and didn't really get any runs," he said.
"But I scored a few in the twenty/20 and was really pleased and pretty upbeat. Hopefully, I'll be able to take that sort of form into the one-day format and am looking forward to the series."
While the New Zealand public is well aware of the destructive power of West Indies skipper Chris Gayle and the stickability of Shivnarine Chanderpaul, they have not seen the best of Sarwan.
If the West Indies are to compete in the five-game one-day series they will need more out of the veteran, and find a way to get on top of New Zealand captain Daniel Vettori's spin bowling.
Vettori is the master of flight and subtle variations in speed which have made him one of the most potent one-day bowlers in the world.
His ability to put the brakes on during the middle stages while taking wickets positions him as the biggest threat to the West Indies.
Gayle dispatched Vettori for 25 runs during the super over of the Boxing Day twenty/20 match.
But Sarwan said there was no specific plan to either go after Vettori, or look to defend and attack from the other end.
"We just have to play him the way we see it. Obviously, if he bowls a bad ball you try and put it away, and if it's a good ball you respect it like every other bowler.
"There is not a specific plan that we have come with. Obviously, we know what Daniel is capable of and he bowls very well in the middle overs."
The other key will be breaking the opening partnership of Brendon McCullum and Jesse Ryder, he said.
If the explosive pair stayed at the wicket through the power plays, New Zealand would likely have got off to made a blistering start.
"It's very important that we get one early. We know how Brendon plays . . . he is very attacking and gets his scoring ticking, and Jesse, too."