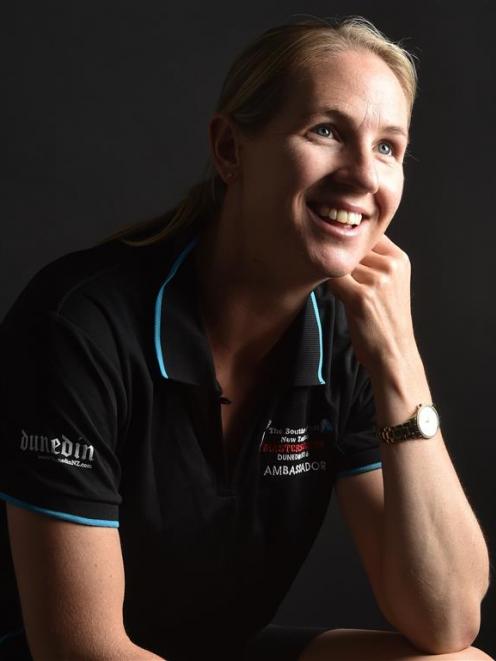 You might expect life would have slowed down for retired cyclist Alison Shanks.
It hasn't.
All those hours she put into training for the pursuit are now spent balancing a kaleidoscope of different commitments.
These days the 2009 and 2012 world champion and 2010 Commonwealth Games gold medallist is kept flat out in her favourite role as mother to active toddler Lucas (16 months).
But there are one or two other little sidelines clambering for her attention.
She is on the board of both Cycling New Zealand and High Performance Sport New Zealand.
She is also involved with the New Zealand Olympic Committee [NZOC] as an ambassador and an advocate for athletes.
And this week the 33-year-old has returned to Dunedin to work as an ambassador for the New Zealand Masters Games.
"There is a lot to keep me busy, even though I'm not riding any more,'' Shanks said.
"Basically we [the NZOC] do a lot of work with primary and intermediate age kids teaching them about the Olympic values and just really opening kids' eyes to what the Olympics is all about.
"So that has been some really awesome work and I'm also sitting on [the] athletes' commission for the Olympic committee, so that is a way of staying in touch and giving back and providing those pathways and a sounding board for athletes.''
Shanks married her former coach Craig Palmer in 2013 and the pair relocated to Cambridge two years ago.
They built a house there and moved in the day before Lucas arrived.
Shanks enjoys living in the Waikato but Dunedin remains home in many ways.
She has loved her week in the city while acting as the Masters Games ambassador.
One of her highlights was supporting her 86-year-old grandfather Watson Barkman in his quest for a fourth Masters Games gold at Chisholm Links earlier this week.
Barkman shot 85 - one under his age - and claimed gold which now means he has family bragging rights.
Shanks only has three gold medals but that could change.
Her competitive spirit still burns "but not for pursuiting''
"When I was first in the New Zealand team this guy told me that you only have so many pursuits in you and you'll know when you are done.''It is so true,'' Shanks said.
"The pursuit is so brutal. It is not just the racing but the training for it. It is the kind of event which is all or nothing.
"I still enjoy getting out on the road bike - I haven't got out of late - but I can see myself still riding a road bike in years to come.''
While Shanks enjoyed a wonderful career as a pursuiter, she would have loved the opportunity to ride for gold at the London Olympics.
She finished fourth at Beijing in 2008 but would have been one of the favourites in 2012 had the event not been cut from the programme.
Shanks rode in the team pursuit but New Zealand finished outside of the medals.
"At the time it was so frustrating not to be able to perform as an individual, more so because I went to Beijing and got fourth and did not have that opportunity as a more experienced athlete to go back for a second time.
"There are still times when you think, aw, I didn't grab that Olympic medal and it will always be hanging there. But there were plenty of other races I can look back on.''
Shanks said her career highlight was her gold-medal ride at the 2012 World Championships in Melbourne.
"It was the fastest I ever went and I had a lot of family and supporters in the crowd.''
Shanks is looking forward to watching the New Zealand road and track team compete at the Olympics later this year and has high hopes for plenty of medals.
"Linda Villumsen has really stepped up in the last few years and has been there in the medals at Com Games and at world championship level - winning gold last year - so she stands a real chance of standing on that podium at Rio.
"Then there is the men's pursuit team, who are obviously the defending world champions ... and of course we've got the men's team sprint. They're going to be a real medal prospect for us as well.''
There are chances for medals in the omnium, kieran and individual sprint as well, Shanks added.