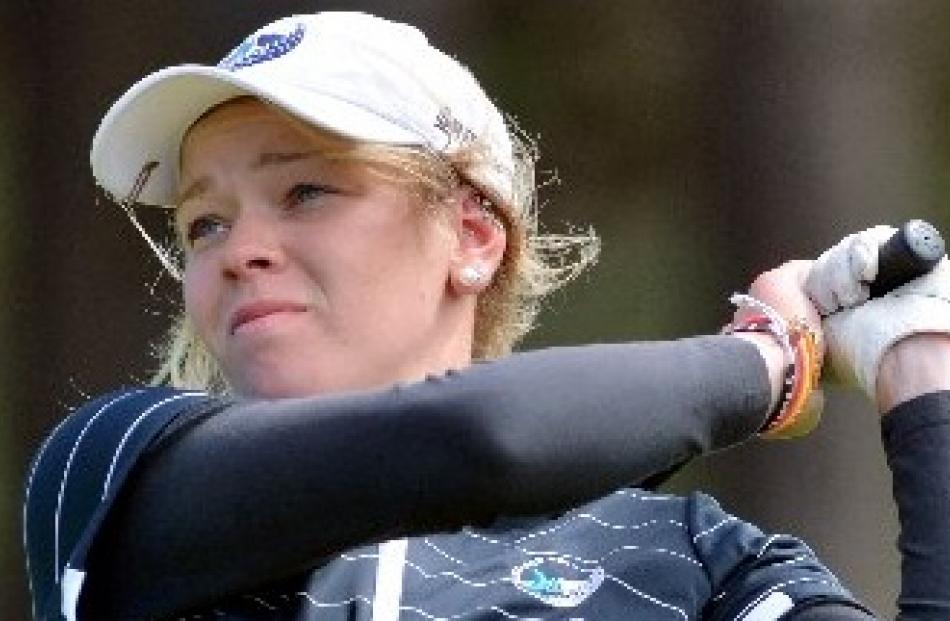 Auckland successfully defended its New Zealand interprovincial title by beating Wellington 3 to 2 in a tight tussle on the St Clair course on Saturday.
The win gave Auckland three of the last four titles, clearly showing it is the dominant force in women's golf.
It was a red-letter day for Auckland No 4 Brittney Dryland, who emerged unbeaten with eight wins, won the final hole to clinch her team's win, and holed in one on the difficult par 3 13th.
Dryland, Lucy Davis (Wellington) and Jess Guenzerodt (Canterbury) all had the maximum number of wins before the final.
However, there was no surprise when Dryland was awarded the player of the tournament trophy at the event's prizegiving.
In the final, Auckland got off to a flier and after three holes was up in four games, while Munchin Keh (Auckland) and Te Rongapai Clay (Wellington) were all square.
Three holes later, the margin was reduced to 4-1 and at the turn, Auckland held a slender 3 to 2 lead.
Four of the Wellington players won the par 5 10th to put their team in front but their run came to an end on what was an unlucky 13th hole.
With a head wind and the pin on the back plateau, Dryland had selected a five iron but clubbed up to a four after the intervention of team manager Kaye Carroll.
She played the perfect shot, which rocked Wellington's Lucy Davis but she recovered to square the match with a birdie 3 on the 15th.
Joanna Kim, the Auckland No 3, won handsomely with four holes to spare, while Wellington's Julianne Alvarez dominated the battle of the No 1s.
The remaining three matches were square with three holes to play but Dryland made the difference, winning the final hole with a par.
The morning semifinals were not as tense. Auckland beat Bay of Plenty by 3 to 2, while Wellington downed Waikato by the same margin.
Despite the close team margins, the three winning games in each encounter were never in doubt.
In the playoff for ninth and 10th, home side Otago finished in a tie with Southland.
The final placing was decided on a count back of section points and games, giving Southland the edge by a single game.
For Otago, Laura Hoskin (No 1) showed she can match it with the best in the country, emerging with five wins from seven matches.
Jo Hicks-Beach (No 2) had four wins and a half, while Susan Greig (No 5) had an impressive six wins, many by large margins.
---
Final placings
1. Auckland
2. Wellington
3. Bay of Plenty
4. Waikato
5. Canterbury
6. Manawatu-Wanganui
7. Taranaki
8. North Harbour
9. Southland
10. Otago
11. Hawkes Bay
12. Northland
13. Aorangi
14. Tasman
---