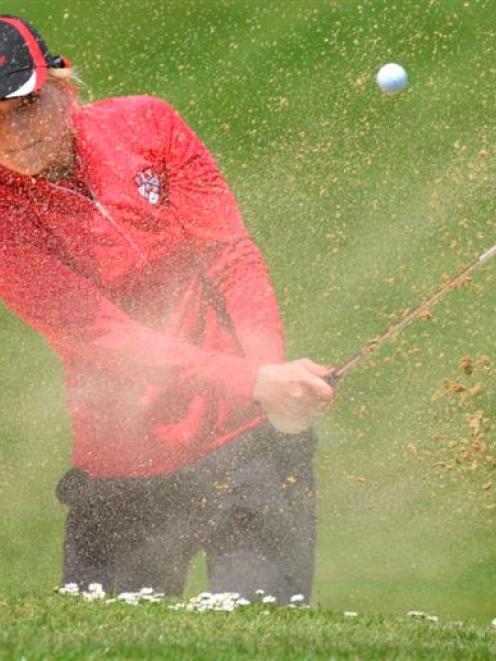 Two key results, which many pundits described as ''upsets'', have set the scene for some exciting golf in the final three rounds of the Toro women's interprovincial tournament which continues with rounds five and six at St Clair today.
In pool one, Canterbury beat Waikato 3-2, while in pool two, Manawatu-Wanganui downed Bay of Plenty, winning four of the five games.
This leaves Auckland, Canterbury and Waikato on three points in pool one with game tallies of 11.5, 11 and 9 respectively.
Despite a 4-1 loss to Auckland in the morning, Canterbury remains the only South Island team capable of making the semifinals on Saturday morning.
Canterbury has a bye this morning and will hope to increase its game total against Aorangi this afternoon and Otago tomorrow morning.
Auckland and Waikato both meet Hawkes Bay and Otago today and then square off against each other in the deciding match tomorrow morning.
In pool two, Wellington and North Harbour lead the way with three points each but there is plenty of golf left to play before the two semifinalists are found.
It was 2-all between Canterbury and Waikato with the No 1 players yet to finish and Sylvie Williams (Canterbury) held the trump card at dormie two up. She won the penultimate hole to give her team the win.
Although Bay of Plenty was favoured, Manawatu-Wanganui came out fighting with Emma Clayton (No 1) and Brydie Hodge (No 3) showing a lot of recent tournament experience to post wins.
The Manawatu-Wanganui tail wagged with Stephanie Hyatt and the experienced Kelly Nicholas posting wins on the final green to give the 4 to 1 margin.
Pre-tournament favourite Auckland continued on its winning way but was pushed by Taranaki, winning by a 3 to 2 margin.
Otago suffered its second loss of the week in the morning round and had to sit out the bye in the afternoon.
Taranaki won the three tail matches with Susan Greig (No 5) starting her fight back too late after trailing early.
Her 5 and 4 loss was in sharp contrast to her large wins in the first two rounds on Tuesday.
Dale Dagg played much better yesterday but was still eaten by Rochelle Keegan while at No 2, Jo Hicks-Beach won her third match in as many rounds, beating Holly Winter 4 and 4.
In the battle of the No 1 players, Otago's Laura Hoskin trailed throughout the front nine but recovered to lead by one at the turn.
She lost the 11th and 12th holes to go one down but fought back on the final five holes winning 14, 16 and 17 to beat Carol Chard 2 and 1.