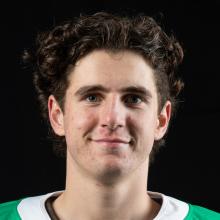 Noah Gregory has been looking forward to tonight for a while.
Since the New Zealand Ice Hockey League draw was released, in fact.
The 19-year-old will take to the rink he has played on his whole life.
Only this time, he will not be wearing Stampede colours.
The Queenstown local will play against his hometown team for the first time, lining up for the Dunedin Thunder.
To make it even more fitting, he has been home for the university holidays and working at the Queenstown rink for the past three weeks.
Needless to say there has been some banter and "a few cheeky wagers" flying around.
"I can't wait. It should be good fun," Gregory said.
"The Queenstown rink is like an A-tier rink. I can't wait to play on it, really.
"Lots of friends and stuff will be watching, so I can't wait."
The Stampede is a formidable opponent and does not lose often. In Queenstown, its losses are even rarer.
It is a team boasting plenty of threats.
However, Gregory was formerly one of those and has quickly become a fan favourite with the Thunder.
He moved to Dunedin to study communications and business management this year, following a gap year last year.
During that, he spent time in the United States, playing for the Minnesota Moose in Junior B ice hockey.
He knew tonight would be a challenge, but said it was a case of the Thunder players doing what they did well.
"They're one of the best teams in the league, I guess. It'll be a good challenge for us.
"We haven't played them yet. We've played well against every other team, so I don't see why we wouldn't against Stampede.
"Obviously their rink is a bit smaller than ours so they have a bit of an advantage there.
"But if we stick to our gameplan, I think we'll be all right."
The Stampede is unbeaten at the top of the table with 30 points after 10 games, and the Thunder is in third place with 12 points.
The puck drops at 6.45pm both tonight and tomorrow.