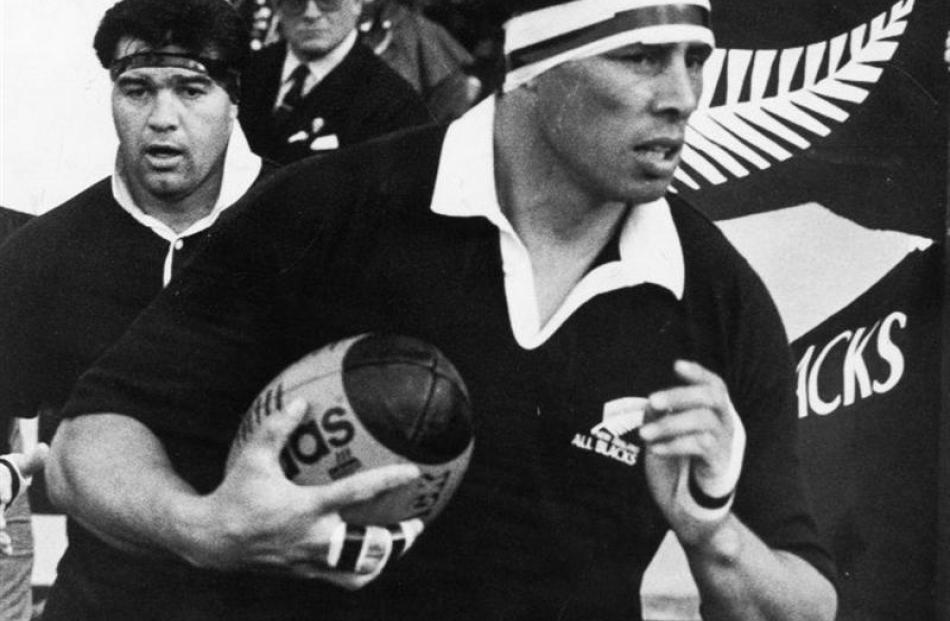 Sport is often about physical prowess but the ability to conquer fear must not be under-rated. Dunedin student Emile Donovan reports.
There is a lovely cricketing anecdote from a late 1970s county game regarding courageous Englishman Brian Close.
Although Close had built up a reputation as a fearless batsman, the day's light was fading and the wicket as green as a weak-stomached sailor. It was, therefore, with no small consternation that he strolled to the crease to face fearsome West Indian fast bowler Wes Hall.
A pusillanimous Close took guard, and Hall - who had already retired two batsmen that day - began his menacing run-up.
Suddenly, the crucifix that the bowler habitually wore around his neck leaped up mid-stride and struck him in the eye. The demonic quick was unable to complete the over, the day's play was suspended, and a relieved Close was gratefully spared Death by a Thousand Bouncers.
Fear - and the instinctive repression of fear - is surely one of the pre-eminent facets of elite sport.
For all the pretensions of glory and machismo offered by your weekly five-a-side football game or the biannual Accounts v Sales rugby match, the prospect of stepping into the shoes of an actual professional sportsperson for a match is enough to prompt a hasty application to the Witness Protection Programme.
Remember the Rugby World Cup semifinal against Australia? Early in the game, All Black first five-eighth Aaron Cruden peppered the Australian flanks with high kicks for his wingers to chase.
They were, in fact, too deep for the All Blacks to aerially challenge for, but were weighted so skilfully that the ball would arrive in a Wallaby's arms a fraction of a second before the onrushing winger's shoulder arrived in his bread basket. Richard Kahui's thundering sack of Quade Cooper exemplified this strategy to a tee.
Imagine, if you will, being in Cooper's position. Your eyes fixed on the ball, a white speck dancing with the clouds in the night sky; 60,000 eyes watching you. You hover underneath it, confident of the catch, but ever-aware of the four or five black jerseys, each clinging to the frame of a finely-tuned, 100kg-plus athlete, sprinting full-pelt at you. Their arrival is imminent; their sole intention to hurt you as badly as they legally can.
Toss your delusions of grandeur and your Second XV rugby experience out the window, and what word are you left with? Terrifying. Absolutely, bloody terrifying.
The mental capacity to deal with and repress fear - indeed, to thrive on one's own fear - is what separates amateur from professional, good from great, forgettable from legendary. It is one of the reasons why sport is an ultimate animalistic indulgence: the release of fight-oriented adrenaline under controlled, structured, policed conditions.
Sport is a bastion of physical superiority, but the ability to mentally deal with the challenges faced by sportspeople - the prospect of injury, of failure, of shattered expectations and disappointment - is surely as important as, if not more important than, physical or technical excellence.
This is particularly pertinent when one considers that almost every professional sportsperson has, or will, sustain serious injuries as a result of their career.
The mental strength required to saddle up after a broken jaw and a severe leg break, as experienced by Highlanders playmaker Colin Slade, or a debilitating back injury like that which beleaguered New Zealand cricketer Daniel Vettori for so many years, must be superhuman.
Indeed, some sportspeople never fully recover from a particularly serious injury. French footballer Abou Diaby, who plays for Arsenal, has been plagued by injuries his entire career, stemming from a viciously broken ankle which kept him sidelined for eight months.
Diaby has missed over 70% of Arsenal's matches since sustaining his injury as his body has failed to adjust to the muscular imbalances that have arisen, but the mental block that results from such a horrific injury has affected Diaby's confidence and effectiveness on the field.
Every 50/50 tackle, every languid pirouette, is executed with the apprehension of a player scarred by the agony of half a career spent on treatment tables: one of the most complete footballing talents of a generation, cruelly destroyed by injury and the inevitable fear that it brings.
The conquering of fear in the face of adversity, however, has provided us with some truly inspiring sporting moments.
Legendary Australian cricket captain Allan Border once played an entire innings with a fractured left finger - and he scored 123 not out.
Buck Shelford, the incomparably tough All Black captain, was famously relieved of his left testicle in a rugby test, courtesy of some vigorous French rucking, but - after a few bandages and (presumably) some choice words - he got back on the field and continued playing for a full 15 minutes before a concussion forced him out of the game.
Success in the world of professional sport requires abnormal physical and technical skill, undoubtedly.
But of equal importance, and much harder to ascertain from a spectator's perspective, is mental aptitude.
Sport is full of fear - of failure, of injury, of expectation and the magnitude of spectacle. But any truly magnificent sportsperson you would careto name, without exception, possesses one attribute that stands tall above all: the instinctive ability, when the going gets tough, to feel the fear, and do it anyway.