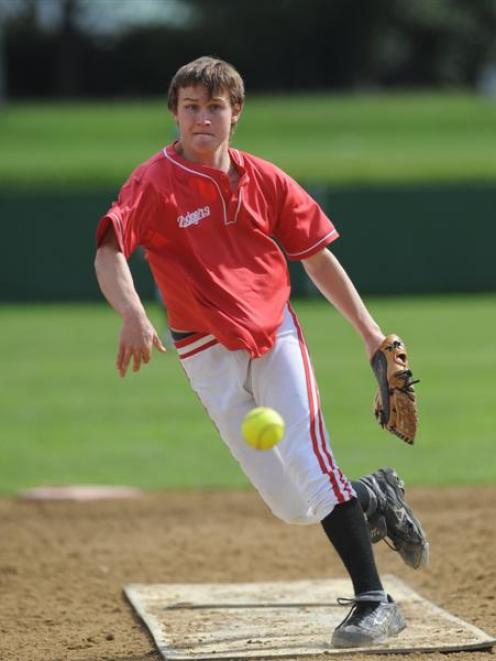 Watts aiming for the world series with Black SoxBEN Watts is a prodigy who is helping lift Otago softball to new heights.
He is the top pitcher in the province and has been in the Otago senior team for the past two years.
Watts (16), a year 12 pupil at Otago Boys High School, is a member of the Junior Black Sox squad preparing for the world championships in Argentina in 2012.
He is a natural and fitted easily into the sport at the age of 5 when he followed his sister, Genevieve, into the game.
"I watched my sister play and I wanted to do what she did," Watts said.
His two younger brothers, Cameron (15) and Matthew (13), are also playing softball.
This is Watts' 11th year of softball and he is now turning the early promise into deeds on the diamond.
His first big break came two years ago as a member of the New Zealand under-16 team in Australia.
Watts has been a member of the Dodgers premier team for the past three years.
"My goal is go to a World Series with the Black Sox," he said.
He realises that it is not possible to reach the top in the sport by himself and he has been helped by two of the stalwarts of Otago softball.
Peter Madison has given him a few tips on pitching and Otago men's coach Scott Cartwright has helped his batting.
The biggest influence in his career has been former New Zealand pitcher Marty Grant, once rated the best pitcher in the world.
"I like softball because you can't predict what will happen," he said.
"The game is just so fast."
These results did not come automatically for Watts.
He has worked hard at his game and practises for one to three hours five or six days each week.
Watts is also a skilled basketballer and has been a guard in the Otago Boys top team for three years.
---
Ben Watts (16)
School: Otago Boys High School
Sport: Softball
Achievements: Junior Black Sox squad 2009-10, New Zealand Under-16 2008, Otago Under-17 2009-10, Otago senior men's team 2009-10.
---