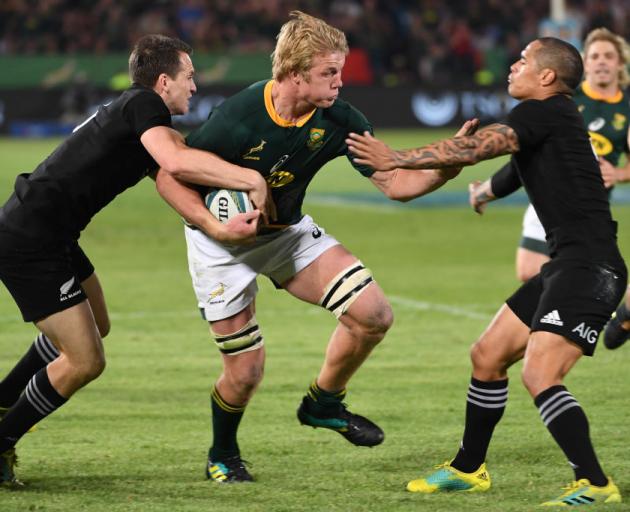 COMMENT: On the surface, the All Blacks' win-loss ledger would indicate the team is ticking along quite nicely, writes Jeff Cheshire.
Eight wins from their last nine games, a sixth Rugby Championship title in seven years and a 3-0 whitewash of France.
But it has hardly been quite that convincing.
Mistakes have been a little too prevalent, the kicking game has been average and the defence has, at times, been flimsy.
South Africa most notably exposed the flaws that have been evident in this side for a while.
It won the physical battle in both encounters and stifled the All Blacks for periods.
Twice the All Blacks have been faced with coming back from large deficits against the Springboks.
Once they succeeded, once they did not.
This team's hallmark for years has been its strong finish. Its superior fitness, depth and ability to execute when the pressure goes on has seen it through countless times.
But you do not want to become too reliant on the great escape act.
There will be games when the deficit is too great, or when the opponent finds their own way to hold on.
It is great the All Blacks are so adept at getting themselves out of these situations - that in itself is a hugely important skill.
However, you would rather not be in those positions.
The loss in Wellington was a prime example. When a team has 79% of the territory and 75% of possession, it should win and it should not be close.
But the All Blacks did not.
Four missed conversions were telling, as were myriad mistakes and a handful of tries gifted to the Springboks.
You cannot call that unlucky. The flaws that are there to see in the wins were exposed on this night.
The difference was the Springboks were capable of capitalising on them and ran out 36-34 victors.
You tend to notice those flaws more in a loss.
On Sunday there was a role reversal. South Africa had all the ball and all the field position.
However, mistakes and penalties cost it in the final 15 minutes.
The All Blacks deserve credit for taking advantage of those. But they were outplayed for 60 minutes and on another day the opposition will not capitulate as the Springboks did.
It is not all bad - in fact far from it. Eight wins from nine games is a remarkably good record.
This side still scores tries by the bucket load and can create them quickly and from anywhere on the park.
They have shown they can get results while missing key players - notably Brodie Retallick, Dane Coles and Liam Squire.
And they still have that ability to find a way to win.
But the All Blacks demand perfection and that perfection has been far from evident.
A lot will be learnt on the end-of-year tour.
It is in the north that - aside from the All Blacks - the strength has been in recent years.
Matches against Ireland and England will be revealing with the 2019 World Cup just around the corner.
Then the focus will turn to rugby's biggest stage - when the All Blacks and Springboks meet in their tournament opener in Yokohama on September 21.