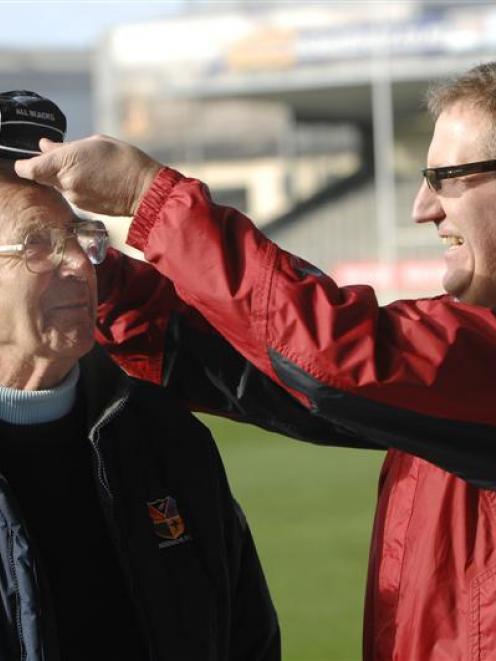 The Haig family says it is great Jimmy and Laurie Haig will finally get their All Black caps, more than 50 years after they wore the black jersey.
The New Zealand Rugby Union will be presenting more than 400 former All Blacks with test caps during the next couple of years, with the first ceremony in Dunedin next Friday night.
The Dunedin ceremony will be held in conjunction with the union's reunion dinner, which is held annually for former All Blacks, union councillors and presidents, and test referees.
Barry and Bert Haig had a close-up look at one of the caps yesterday, and will pick them up at the dinner next Friday night.
Barry Haig, the son of Jimmy Haig, said yesterday he thought the capping idea was great and was an appropriate gesture to recognise his father's appearances in the All Black jersey.
Jimmy Haig played two tests for the All Blacks in 1946, as a halfback, before moving to league the next year, and going on to play for the Kiwis.
Bert (82), who also played for Otago and is the younger brother of Jimmy and Laurie Haig, said the caps were a good idea from the union. The Haig brothers hailed from South Otago, and all played in the inside backs for Otago.
Laurie, the older of the two All Black brothers, was a first five-eighth who was picked for the All Blacks in 1950 and toured the United Kingdom, France and North America in 1953-54. He played 29 games for the All Blacks, including nine tests.
He died in 1992, with Jimmy dying in 1996.
Traditionally, players were given caps after playing their first test, but that practice lapsed after World War 2 and was not reintroduced until 1997.
There are 414 caps to be awarded, with 325 of those All Blacks still thought to be alive.
The families of those former players who have died will also be invited to attend to receive the caps.