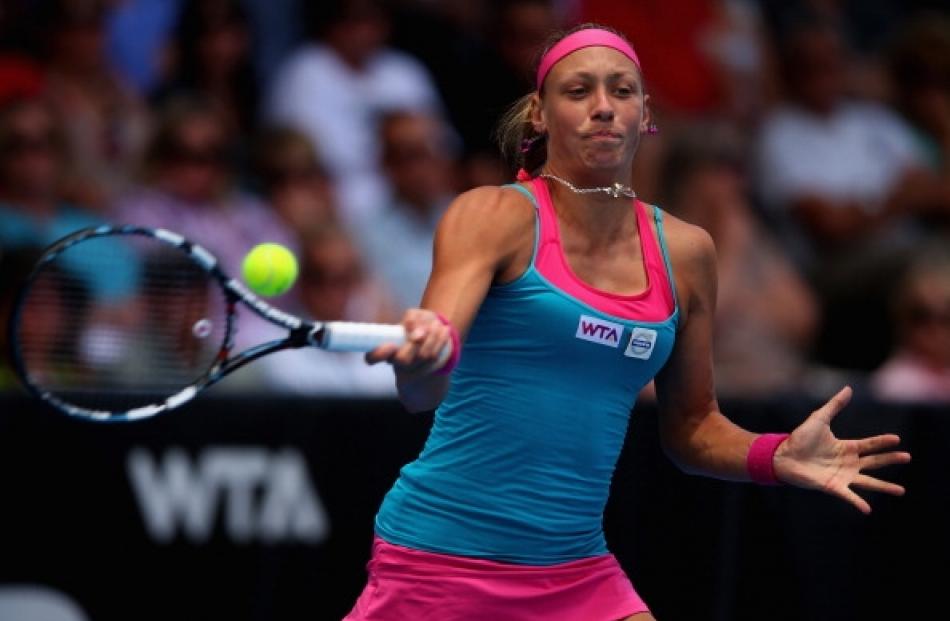 Yanina Wickmayer has quickly taken a liking to the ASB Classic.
Tomorrow she will play her third final in just four appearances at Stanley St and, more than that, she will be looking to add to the title she won here in 2010.
It is the most finals appearances in the modern era - it has been played in its present guise since the creation of the 1986 Nutrimetics International - bettering Eleni Daniilidou who won in 2003 and 2004 but crashed out in the first round in both 2005 and 2006.
Wickmayer doesn't know why she has done so well in Auckland, and it is her most successful tournament on tour.
"The air, maybe," she offered.
More like a power game that has seen her consistently in the world's top 25 for the past four years and peak at No 12 in April 2010. She's won three WTA singles titles and nearly US$2.5 million in prizemoney.
That final number will increase tomorrow but it's the title she wants the most.
The match will see a contrast in styles with the heavy hitting of Wickmayer against the deft touches and guile of Radwanska. There are few players who could get away with a second serve that barely registers above 100kmh (in one service game today she knocked down 'rockets' of 101kmh, 111kmh, 100kmh and 104kmh) but Radwanska is no ordinary player.
"She's No 4 in the world and has been top-10 for a number of years," Wickmayer said. "A lot of experience and a great player. She doesn't give you any free points and makes you work for every shot. It's definitely going to be the toughest match in this tournament."
The pair have played twice before, with each winning one match. Wickmayer won on hard court in 2010, Radwanska on clay in 2011.
Radwanska's style will be the opposite to what Wickmayer faced today in eighth seed Mona Barthel, the big-serving, big-hitting German eighth seed. It was often a struggle for Wickmayer to deal with, but a significant improvement on the Hobart final 12 months ago when Barthel blitzed the Belgian 6-1 6-2.
It is a match Wickmayer remembers well, and helped her win today.
"I knew it was going to be a tough match because she kicked my arse once before. I knew what to expect so I was ready for it."
It's much like the way she has approached the year. The 23-year-old came into this week's tournament declaring that she had just had not only the best off-season of her career but she was also in the best shape.
She is renowned for her temper but has been uncharacteristically calm this week except one heaved racket at a change of ends and a few Leyton Hewitt impersonations and cries of 'come on'. It's been a reflection of the relative ease of her passage to the final, and the only set she's dropped all week was when Barthel was unstoppable.
"I'm really excited about [the final]," Wickmayer said. "I've got nothing to lose. It's another final so all positive for me. I'm just going to try to play my best game."
Invariably, it's what she does in Auckland.