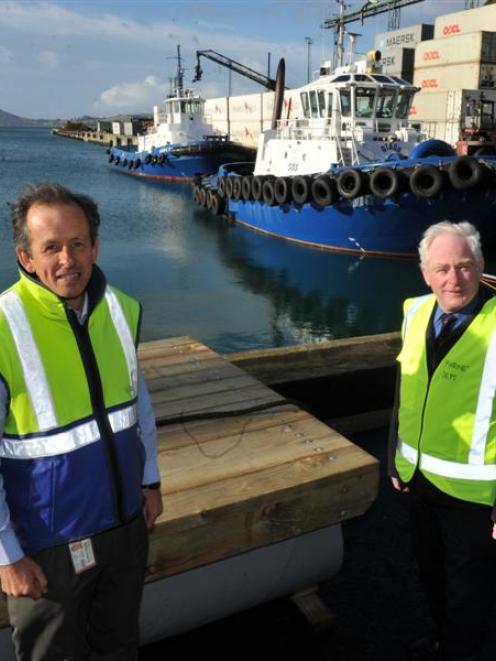 The first phase of $100 million of infrastructure spending by Port Otago was announced yesterday. A contract has been signed for a new $11 million tug, plus two container straddle crane orders worth $2.5 million.
Port Otago is fully consented to begin its channel-deepening programme, between Port Chalmers and Taiaroa Head, and will by November be making a decision as to what extent dredging may be undertaken.
During the past decade, Port Otago had spent about $90 million on infrastructure, largely on a new tug and two Chinese-made container cranes. During that period, 100% owner the Otago Regional Council was paid almost $80 million in dividends.
Port Otago chief executive, Geoff Plunket, said yesterday the company was embarking on the ''first phase'' of about $100 million of infrastructure spending during the next decade, much of it aligned with its ''new generation'' dredging programmes for bigger ships.
''There's the new tug, the channel-deepening project, then over more than 10 years there's warehousing and some developments in Dunedin,'' Mr Plunket said.
The ''immediate spend'', of a total $14 million, on the tug and straddle cranes, included about $400,000 for a scientific study into the dredging project.
''Once that study is completed, by about the end of November, a decision can be made on dredging,'' Mr Plunket said.
The contract for the new tug was signed with Netherlands-based Damen Group representatives yesterday, at Port Otago. Damen will have the tug built in a Vietnamese boatyard in Da Nang, to be completed by next June for its 30-day delivery voyage to Port Chalmers, by July or August next year.
The 250-tonne tug, which will be the 63rd of its type made, is slightly larger than the 10-year-old Otago. It will be 24m long and 11.2m wide, and have a bollard pull of 68 tonnes, as opposed to the Otago's 56-tonne pull.
Port Otago chief pilot, Capt Hugh Marshall, said pilots would appreciate the more powerful tug as a ''better tool'' for manoeuvering large container ships around the harbour.
''As ship sizes get bigger and bigger, the extra power will be appreciated,'' he said.
The vessel, operated by two staff, was popular in New Zealand and Australia, he said.
Maersk, Port Otago's largest container ship customer, has made some recent changes to its Southern Star shipping schedule. Some larger vessels with a capacity of up to more than 4000 containers will visit the port.
The tug Otago was delivered a decade ago from a Whangarei yard, at a cost of about $8.5 million. The port company's near 40-year old tugs, Rangi and Karetai, will be put up for sale, Mr Plunket said.
The two Kalmar cranes can straddle three stacked containers while carrying one. They will bring Port Otago's complement to six of that size. The Port operates 15 straddles in all. The new Kalmars will switch from diesel to diesel/electric power, and will be delivered by the end of the year, for assembly and commissioning.
---
Port Otago's vessels
• New $11 million tug
• 10-year old tug Otago, $8.5 million
• 39-year-old Dunedin-built tug Rangi, for sale
• 38-year-old Dunedin-built tug Karetai, for sale
• Dredging vessel New Era.
• Pilot vessels Aromoana and Potiki, work Dunedin.
• Pilot vessel Paerata, works in Milford Sound.
• Vulcan, dredge and pile-driving platform.
• Kapu, small work boat.
---